Another year has ended. It's been a pretty good one, all in all. But this next one… it is going to be beyond anything I have ever known. Some things have happened that I can't quite go public with (probably in another week or so), but it's fair to say that my entire life will be changed.
So do make a point to drop in and visit from time to time, as I'm going to have some great stories to tell. Oh my, yes!

I'm spending the day away (though not far) from home. In addition to being my birthday, today is the third and final full day of the Klingon Language Institute's 20th annual conference, what we call the qep'a' cha'maHDIch. Its been incredibly fun and tiring. We'll round off the festivities tonight with a pizza party and cabaret (in Klingon, of course), which will go on into the wee hours of the morning. Check out time at our hotel is noon on Sunday, and by then we will scatter to the winds for another year.
Meanwhile, on th =e west coast, my friend Jay Lake is hosting his own wake. I'm sorry I can't be there to share in the celebration of his life, but I've written up a little something for the book that is being presented to him today. If I had one birthday wish, it would be to give Jay more time, but that doesn't appear to be likely to happen. We saw one another last in May at the Nebula Awards weekend, at which time I presented him with his own plush buffalito (whom Jay immediately named Harry).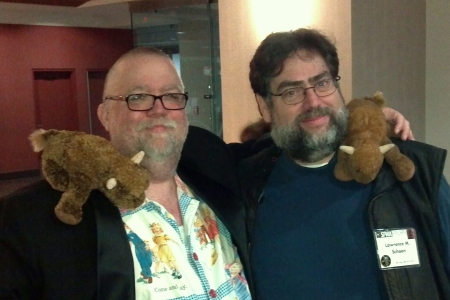 And now, if you'll excuse me, I need to go prepare for a day of discussions and wordplay in a fictional alien language. Highlights today will include a field trip to an area historical site, massive amounts of singing, and our version of the classic game show, Password, all in Klingon, of course.