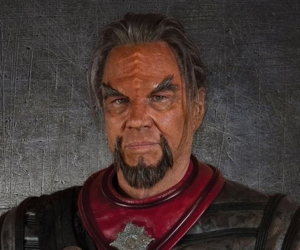 I only just learned that actor Richard Hatch (shown here as a Klingon in Prelude to Axanar) died on February 7th. He was 71.
Back in March of 1999, I was in Sydney, Australia as the guest of a convention called BEST OF BOTH WORLDS 5. William Shatner was headlining the convention, but also on the bill were Richard, Robin Curtis, and me.
Bill was staying in a separate hotel from the rest of us, but I spent a lot of time hanging out with Richard. Highlights included watching the Oscars in his hotel room and listening to snarky stories about various nominees.

The three actors had been in Sydney for a day doing press, but I only arrived late in the afternoon the day before the convention was to start because I'd just flown in from New Zealand where I'd spent several days opening a Star Trek exhibit at the national museum in Wellington.
Richard, Robin, and I were the honored guests at a special banquet in the hotel. I'd met Robin before at another con and we got along quite well, so our hosts put us at the same table. Richard was oof at another table, holding court. Because of the timing of things, Richard and I hadn't even been introduced yet, and when Robin and I sat down at our table I remember her telling me "not to start anything" with Richard at dinner.
No one told Richard though, so he started it.
Over the course of the next hour, we took turns playing a series of jokes on one another. He took my dinner away when I wasn't looking. Then, while he was up from his table and talking to someone across the room, I removed his place setting and chair, and had everyone at his table shift so the round of eight became a round of seven and it was like he'd never been there. In retaliation, he had a member of the hotel staff come up to me to inform me I had phone call from the states, and that I could take it downstairs at the front desk. I rushed down, only to find a note in bad Klingon that basically said "ha ha, we got you."
When I returned to the banquet room Richard was grinning. I told him how relieved I was that the call was a fake because my father was very ill (which was true) and the only reason someone would be calling me from the US would be to tell me he had died. Richard stopped laughing, and we sat down and began to chat.
I asked him why he'd started in like he had, when we'd never even formally met. I will never forget his answer. He said, "Lawrence, you just looked like someone who would be fun to play with."

And, on the last night of the con, after everything was over, we went out drinking. I don't usually drink, but I got drunk that night, and Richard and I wandered around Sydney harbor singing show tunes.
Goodbye, Richard. Thank you for the memories. You were fun to play with.