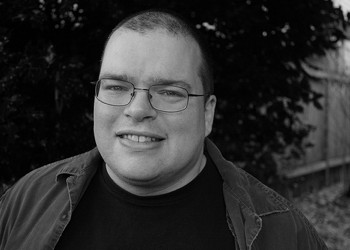 Hiya. I'm typing up these words on Sunday afternoon. Since Wednesday night I've been hanging with some two dozen speakers of the Klingon language in a hotel just south of the Philadelphia Airport. There has been little sleep but a great deal of linguistic silliness. It is fair to say I am exhausted. It's also my birthday. By all rights, I should be taking a nap or eating cake (though probably not both at the same time). Instead, I'm here, typing this up, because you need to know about Harry Connolly, who will be the EATING AUTHOR guest when you read this on Monday. So, let's get to it.
Harry's the author of the Twenty Palaces series of first-person mystery/fantasy novels. I have to say, I haven't been able to find out all that much more about him. He's a mystery, or maybe a fantasy, or both which would be just a bit too perfect given his books. I'm pretty sure he lives in Seattle, that he once lived in Philadelphia, and that he has a son. But that's it. Heck, I couldn't even get a full color photo out of the man!
His latest book is Bad Little Girls Die Horrible Deaths: And Other Tales Of Dark Fantasy, but it won't hold that special place for long because he's currently working on a new series, The Great Way, which will debut with book one, The Way Into Chaos, in early September.