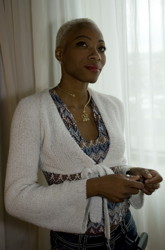 And now, as they say, time for something completely different. My guest this week on EATING AUTHORS is Stephanie Burke, and she is probably the most prolific writer I know. I still vividly recall the first time we met, sitting side by side on a panel at a Balticon. We were doing the introduction thing, each of the panelists saying who they were, what they'd done, and so forth. I described myself, and mentioned that my second novel had just come out. Stephanie was up next, talked a bit about herself, and then said her nine hundred twenty-seventh book had just been released. Okay, maybe my recollection is more vivid than accurate; I may have that number wrong, but it was a stupidly high number.
Stephanie writes paranormal romance and erotica, of every flavor and combination imaginable. She's so prolific that she seems to always be having different titles coming out at the same time from such places as Changeling Press, Ellora's Cave, Loose-Id press, Red Rose, Renaissance E Books, Tease Publishing, Broken Sword Press, and Beautiful Trouble Publishing (and I have it on good authority that she's looking for a few more venues as well). Her latest work came out just last week, a digital boxed set entitled Space Opera.
You've probably heard the phrase "force of nature" used to describe someone, only to find the description a bit over the top when you actually meet the individual. In Stephanie's case this is not hyperbole (as her response to this blog's question aptly demonstrates). Whether sharing a convention panel with her, enjoying a conversation, or simply reading one of her books, you need to be ready for a tsunami, trust me.