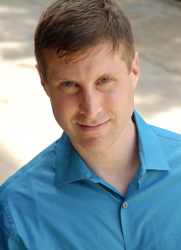 I am officially declaring today to be "Normal Day," because I'm a bit worn out from the previous handful of days that were crazy/wonderful/frenetic/heartwarming/exhausting, and I could, you know, benefit from a day of relative normalcy. So yeah, I'm going to relax a bit today, go to the DayJob, do some fairly typical research work, grab my usual lunch, and so on. Normal Day.
Please note, however, that today is very much not Normal Day for today's EATING AUTHOR guest, Matthew Kressel . Matt's first novel, (which is also the first book of his planned Worldmender Trilogy) is King of Shards comes out tomorrow. So yeah, nothing typical or ordinary about today for him.
If you don't know his name, you should. His short fiction has showed up on the Locus recommended reading list and been nominated repeatedly for the Nebula award. His editorial work with the small press Senses Five has garnered him a World Fantasy award. And he's also currently the co-host (alongside Ellen Datlow) of the Fantastic Fiction monthly reading series in New York City, which features some of the best and brightest speculative fiction to be found.
I have been waiting with no little impatience to read Matt at book-length since word first leaked that he'd sold a novel. That waiting comes to an end tomorrow. Tomorrow will not be a Normal Day.