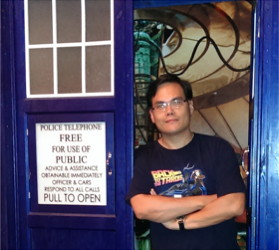 Forget what you know about March being the month of lions and lambs. Over the last several years, for me, March has been the month of a torrent of mail as hundreds of SFWA members send in their ballots to determine the composition of the organization's Board. It's my own fault, mind you, as the volunteer head of the Election Committee. Later today I'll walk down the driveway to check my mailbox and collect the day's dozens of sealed ballots. None of them will be opened for weeks yet, but for now talk of SFWA Elections provides an introduction of sorts for today's EATING AUTHOR guest, E. C. Myers, the exiting Eastern Regional Director of SFWA. I mention this because it tells you a bit about the king of guy Eugene is. When the previous Director had to step down, he stepped up and offered to complete the term of office. So, speaking as a card-carrying SFWA member living in the greater Philadelphia area, thanks, Eugene!
Meanwhile, back to the more traditional matters of this blog feature's introductions. If you're not already acquainted with Eugene's work, you should know that his debut novel, Fair Coin took home last year's Andre Norton Award for Young Adult Science Fiction and Fantasy (which puts him in a very select club alongside such names as Terry Pratchett and J. K. Rowling). I was present at the banquet when his win was announced, and it was only then that I learned that this author, E. C. Myers, lived in Philadelphia, that he knew all the same local area writers that I knew, and yet I'd never heard of him or met him at any of the local gatherings, readings, or conventions. Doh, did I ever feel stupid!
I'm happy to say that this oversight has since been corrected, and in the year since I've had the opportunity to hang out and even dine with Eugene on multiple occasions. And as part of my making up for it, it's a great pleasure to have him here on the blog.