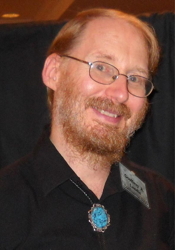 I'm writing this a bit further in advance than is my usual routine, because by the time it posts I'll have been away at this year's WorldCon for the past week, and I don't expect to return home until tomorrow. But neither rain, nor sleet, nor excessive con-going activities can stop the weekly juggernaut that is EATING AUTHORS, and so here we are.
This week's guest is the real deal; Geoffrey A. Landis isn't just another SF author, he's a card-carrying NASA scientist and is actively contributing to the work that will carry us to Mars and beyond! The accolades he's received from the scientific community are paralleled by those in the SF community, including the Nebula Award, two Hugo Awards, both the Locus and Theodore Sturgeon Awards, as well as the Robert A. Heinlein Award "for outstanding published works in science fiction and technical writings that inspire the human exploration of space" which neatly bridges his two worlds.
If hard SF is your thing, you can't do much better than reading Geoff's stuff!