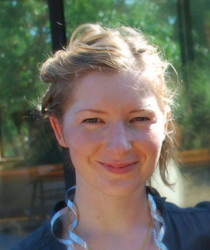 If you're reading this blog then it's probably safe to assume you have an interest in what's going on the science fiction and fantasy community, which means you saw the news about the Nebula Awards ballot that went live this past Friday. Accordingly, I'd like to take a moment here to thank everyone who read my novella, Calendrical Regression, and found it worthy of a nomination. This is my third Novella Nebula Nomination for the Amazing Conroy in as many years and I have been grinning like the village idiot for days.
But enough about me, let's get back to what Monday on this blog is supposed to focus on, namely, authors and what they've eaten. Since the beginning, I've been fortunate enough to have some pretty "big name authors" drop by to talk about their most memorable meals. That's always a delight, but perhaps my favorite thing about EATING AUTHORS is that it allows me to shine a light on new writers, authors who have recently seen their first novel get published. Case in point, this week we have Kristi Charish, whose debut book, Owl and the Japanese Circus, came out just last month from Gallery Books (a division of Simon & Schuster).
But make no mistake, Kristi may just be getting started as a published novelist — she already has her Ph.D. in Zoology and has worked as a scientific advisor on Diana Rowland's White Trash Zombie series — but the sequel to her first book, entitled Owl and the City of Angels, is scheduled for a January 2016 release. Also, you can expect the debut book in a second urban fantasy series, Kincaid Strange, sometime in the middle of next year. So, whether you want a modern day "Indiana Jane" caught up in a supernatural world, or a voodoo practitioner living in Seattle, Kristi is going to be serving up plenty of adventure.