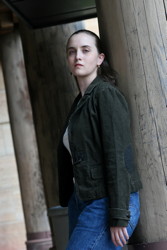 I need to confess to a bit of apprehension as I type this week's EATING AUTHOR post. The latest round of the season's snowpocalypse is about to hit, and it makes me a bit uneasy as to whether this entry will post as planned. I suspect so, though I might not be able to access it myself if the power goes out again.
But let me put aside all such doom and gloom and tell you a bit about this week's guest, Marie Brennan. She's a self-described "former academic," having left graduate school prior to completing her doctorate in folklore and anthropology to focus her energies on her writing instead. And with admirable results!
Marie writes fantasy. You might know her from her Doppelganger duology (Warrior and Witch), or from her Onyx Court series (beginning with Midnight Never Come. And it's the kind of fantasy you'd expect from someone who's put time in studying anthropology and folklore. There's a verisimilitude to her work that other authors would kill for.
And that trait especially shows up in her latest work, the Memoirs of Lady Trent series, which began with A Natural History of Dragons. The second book, The Tropic of Serpents, hits the stands tomorrow. Trust me, if you like dragons and natural history, you are going to love these books.