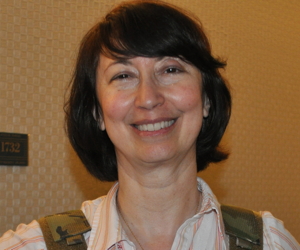 Well it's another glorious Monday. In part because over the weekend I finished a draft of the BARSquel, and this week in addition to assorted polishing and trimming of the MS, I'll also be going back to work on a completely different book. And in part because (at least here in Pennsylvania) it is Martin Luther King Day, which many will use as a day of service, a day of giving back, and I think we can all benefit from that attitude. And finally, in part because by the time you read this I'll have come and gone for a quarterly blood draw, and it makes me feel good to be staying on top of health issues.
In a perfect world, some portion of that last paragraph would provide a brilliant segue for this week's EATING AUTHORS guest. Alas, Jody Lynn Nye did not help me write my novel. Nor do I know how she's spending the holiday. And I'm pretty sure she hasn't any influence on the results of my bloodwork. So the segue is a non-segue, but what I can tell you about her is that I've been reading her work for years and even got to publish her one of her stories in the Paper Golem anthology Cats in Space.
Like me, Jody was born in Chicago. Unlike me, she's authored or co-authored more than forty novels, and more than one hundred short stories. She's played in some pretty impressive universes like Anne McCaffrey's Dragonriders of Pern series, Robert Asprin's Myth series, and Piers Anthony's Xanth series. She writes both science fiction and fantasy, and does so with both action and humor. If you need a good story and a smile, I can't think of anyone better to read.