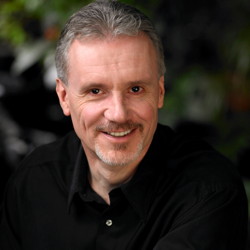 Halloween is just around the calendrical corner, that night when the border between worlds is at its thinnest and denizens from the other side cross over. Sadly, that's the best segue I could come up with by way of introducing today's EATING AUTHOR guest, Douglas Smith, who has crossed Canada's less-than-spooky-border to be here.
Doug writes both non-fiction and fiction, novels and short stories. He's a three-time winner of Canada's Prix Aurora Award and been nominated for it nineteen times! He's also been a finalist for the Sunburst Award for Excellence in Canadian Literature of the Fantastic, as well as several other nifty prizes, including the John W. Campbell Award.
In the non-fiction realm, he recently released Playing the Short Game, which may just be the definitive handbook for selling short genre fiction. And in a related bit of 'paying it forward', Doug is the keeper of the fabled, Foreign Market List, the best place I know to check out where to send a short story when you're looking to see your work in another language. And if you have any doubts about trusting the list, let's just note that Doug's own work has appeared in twenty-five languages and thirty countries.