Hey there. You've all seen posts like this before, from both the "cool kids" and those of us with less swag. I suspect that's because we all suffer from imposter syndrome and award nominations give us a sense of validation, even if we have to go out of our way (with posts like this one) to remind people to love us for what we make.
And yes, I see the irony there.
The second half of 2019 is proving to quite chaotic as unanticipated health issues devour my time and energy. Life? Meh. I'm taking it day by day. Anyway, here we go.
Most of my effort this year was spent relaunching all the titles in my Amazing Conroy series. That said, I did sneak in a few new tales. Two of these, a novelette and a short story, represent the best of my original work this year. I've provided links to the appropriate SFWA Forums where members can download them (after first logging in).
Both works were published in obscure books that you're probably not going to encounter in the normal course of things. Hence this post so you'd learn of their existence and have the option to look them over as your time and interest dictate.
Please note: I am not asking for your nomination or vote. That would just be wrong on so many levels, and even I'm not that crass. But I do hope you'll choose to read one or both of them because I believe the works will speak to you more eloquently than I can. If either does so, I'd welcome an acknowledgment of it on the Nebula Reading List.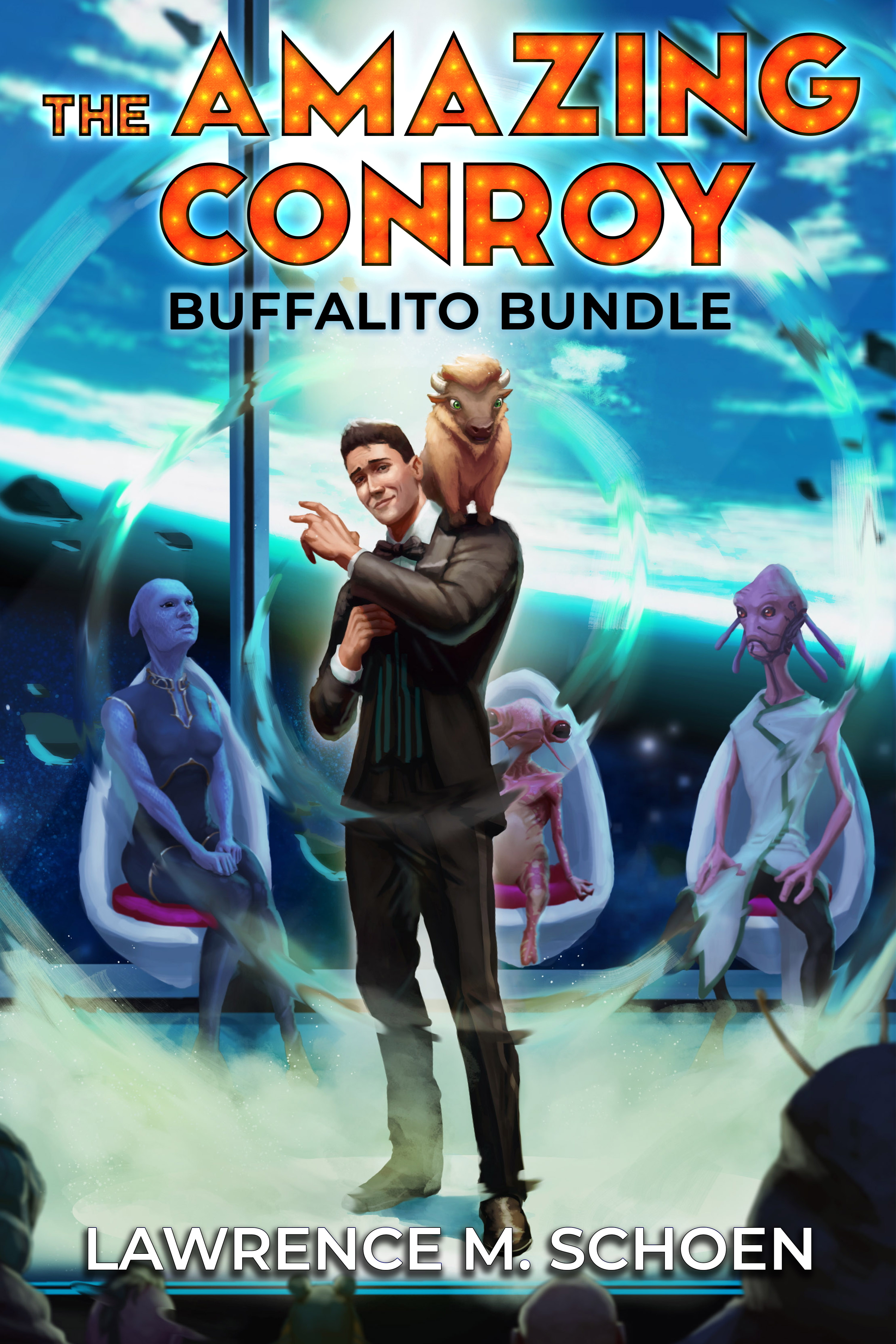 "Mind Din" (approx. 15,675 words)
NOVELETTE (https://www.sfwa.org/forum/topic/14101-mind-din-by-lawrence-m-schoen/)
This novelette appeared in my short story collection Buffalito Bundle in July of 2019. The rest of the pieces in the collection had been published before, but "Mind Din" was new to the collection. This tale is set in the Conroyverse and features the Amazing Conroy and his alien companion animal, Reggie, as well as a deadly virus that causes telepathy, government agents, a possible descendant of a world famous Sri Lankan cricket player, the use of pool balls as brutal projectiles, the Atlanta Zoo, and some very long medical words scattered to your unconscious mind.
Nebula Reading List link: https://www.sfwa.org/forum/reading/work/3945-mind-din/
"Crossing the Line" (approx. 4360 words) SHORT STORY
(https://www.sfwa.org/forum/topic/14314-crossing-the-line-by-lawrence-m-schoen/)
This story appeared in The Expanding Universe 5 anthology edited by Craig Martelle, released in September 2019. Some clever commenters have said it "puts the LIT in LitRPG." Maybe. The story's about a humanities professor competing as a piece in an alien civilization's chess game. If she wins, she could gain access to a long lost piece of literature. If she loses, her memories are at risk and her life is over. Much like last year's Nebula nominee "The Rule of Three," there's very much an 'old school' feel to this story. I hope you like it.
Nebula Reading List link: https://www.sfwa.org/forum/reading/work/3946-crossing-the-line/
Both works have already received a bit of love on the Nebula Suggested Reading List (indeed, "Crossing the Line" has crept up into double digits!). I hope you find them to your liking as well.
And that's it. Thanks for reading this far.