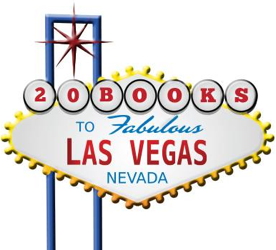 Between battling cancer, recovering from chemo, and oh yeah the whole COVID-19 craze, I haven't traveled far from home this year and don't expect that to change any time soon. No appearances, lectures, readings, or coneventions. Obviously, I'm not alone in this.
Lots of people have come up with creative solutions and stopgaps. I've participated in Stu Segals' virtual Strolling with the Stars, both as the designated guest and as a viewer of many others. I spend at least three mornings each week sitting in on live interviews of luminaries within the indie publishing community. To no one's surprise, various conventions have decided to go virtual (a big example being the Nebula Conference later this month), and even my monthly writers' workshop group has shifted to meeting on Zoom.
At this point, I suspect the only event I'll be physically attending this year is the annual 20BooksTo50K conference scheduled for November — assuming that in six more months the world will have stopped burning quite so much. It's three very full days of brilliant presentations focused on the indie business side of writing — as opposed to other professional writing conferences I've attended where the emphasis is on craft — from marketing to managing cash flow, cover design to blurbs, pros and cons of KU vs. going wide, newsletter onboarding and general care & feeding of one's subscribers, back lists and sell through, and on and on.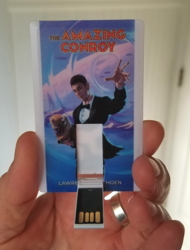 Before those three days of presentations, there'll be a day of industry professionals making themselves available for conversations and questions. Representatives from Amazon, Apple, Kobo, Microsoft, Podium, Tantor, DreamWorks, Findaway Voices, Publisher's Weekly, Draft2Digital, PublishDrive, Reedsy, BookFunnel, StoryOrigin, Cover Artists, and so many more. It's going to be a crazy wonderful opportunity to make some serious connections (and have the following three days to expand on them).
But wait, there's more. On the fifth day, there will be an Indie Book Fair. I've already reserved a table (well, half a table). I'll be there with a good assortment of my titles, and while I'll be only too happy to sell them, I'll naturally sign anything that people bring in. These kinds of events can often be very "hit or miss" bur I'm expecting a huge response because of all the lost opportunities for fans not being able to travel to conventions this year.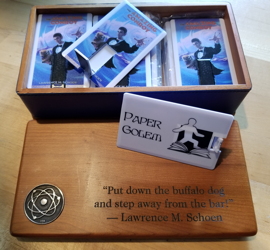 Which is why I wanted to do something special. Something different.
Which is why I arranged for some custom flash drives. What you're seeing in the images on this page are basically credit card sized (52mm x 83mm) flip drives, the bit that plugs into the USB slot snaps up and unfolds from a hinge and you're good to go.
I've had these made up by the fine folks at usbmemorydirect.com. They feature an image of the Amazing Conroy on one side and the logo of my publishing imprint, Paper Golem, on the other.
My plan is to load up the drives with copies of my books and give them away during the Indie Book Fair on the last day of the 20 Books Vegas conference. Mind you, I have a limited number of these flash drives, and when they're gone that's it — unless it's a huge success, in which case I'll make more for other conferences in 2021. And… now that I think about it, I'll probably hold a couple in reserve as a giveaway for the folks on my mailing list.

And that's my travel plans for the rest of 2020. I hope to see some of you in Las Vegas, and if you are coming out (I should mention the conference is at Sam's Town) then I hope you'll come by for a flash drive full of my fiction.