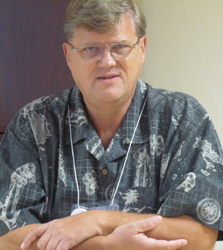 Whenever I'm scheduled to attend a convention, I like to review the list of other program participants to see who'll be there. Who I know and who I've never met before. And who I might check out as a possible invitee to EATING AUTHORS. I tell you this because it's how I came to meet this week's guest, Dave Creek.
You may already know him from his short fiction (he's sold more than twenty stories appear in Analog alone), or from his novel-length fiction (including the epic The Great Human War series — of which Book 3, The Unmoving Stars, came out just over a month ago).
Dave's bio includes details like being retired from a career as a television news producer, and living in Louisville with his a wife and son. But to me, he'll always be the guy who showed up at the Nebula Conference and handed a few copies of his work to a relative stranger for a prison library project that I was running. That probably tells you all you need to know right there.