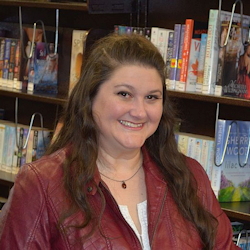 As it turned out, the USA did not descend into total civil war in the middle of last week. We've got that going for us, but the polarization of the nation — which I want to call "polarity" but I'm pretty sure that would mean something else — continues unabated. In the midst of all of that I thought we could all use a meal from an author who provides a variety of distractions. Enter this week's EATING AUTHORS guest, Kenzie Kelly, who sums up her fiction as "other worlds; tight pants."
Kissy writes kissy SF&F, exploring other realms and populating them with aliens and supernatural beings, which may or may not be inspired by the suburb outside of Atlanta, GA where she makes her home. I'm pretty sure we've never met — though my last visit to Atlanta was a blur that ended with surprising good dim sum — rather, I know her from her Herculean efforts wrangling the many authors involved in last year's massive Hellcats anthology. That was more than enough reason to invite her to drop by and share a meal. Well, that and the tight pants.

LMS: Welcome, Kenzie. Please share the specifics of your most memorable meal.
KK: My favorite food related memories are more about the people I was with than the actual menu or preparation, even though I am drawn to potatoes like they contain an ingredient necessary for my survival. I suspect this is true for many people. Memories being more about the company, not the potato thing, I mean.
My most memorable meal falls in to that category. The food was far less interesting than the company. Hindsight is humor in this case, although I remember suppressing giggles and giving each other incredulous looks as it happened.
My mother and I had decided on a quiet lunch in a mid-level Mediterranean restaurant. We'd been there before and were hooked on the Greek salad and flaky pastry spanakopitas. If I remember correctly, the restaurant had recently changed hands, but the menu and food quality remained the same.
However, much of the staff had changed.
Our lunch arrived right about the time we noticed an abundance of flies ensconced on the windowsill at the end of our booth. Our plates being set on the table rang their dinner bell and we were spending as much time defending our food from them as we were eating it. We called our server over and pointed out the problem as politely as possible.
"We can take care of that." She told us with authority.
Before we could register what was happening, she returned with a large can of aerosol bug spray and liberally fanned the poison from her position at one end of our table, toward the opposite end where the flies were.
Mom and I retreated in horror as we watched the spray drift down to coat our lunch. The server was quite pleased with herself at having defeated the insects until we pointed out that she had also poisoned our food.
We aren't the type of people to let a little bug spray come between us and a truly excellent Greek salad, so after a table change and a fresh serving of lunch (sans poison, we hoped) we got back to the business of eating.
The next time the waitress checked on us, she apologized up, down, and sideways. During our attempts to reassure her that no permanent damage was done, she let slip that she was recently released from jail, as were many of her new coworkers. At the time, mom was working as a researcher on a study taking place in certain prisons. That information seemed to be the encouragement she needed, because in short order she had joined us at the table and was deep into telling us her life story.
As you might guess, it wasn't a happy one, and she included details of her life in jail after a drug possession conviction (heroin), how she was working to regain custody of her son, and the abusive ex with whom she was tempted to get back together.
Our next visit, we brought several self-help and relationship advice books for the staff. I never learned what happened to that particular waitress, but I like to hope she stayed out of jail, got custody of her son, and realized her ex was no-good and she was worth far better.
My mom and I must have the look of good listeners because random strangers sharing their life stories happens more often than either of us is comfortable with when we eat out together. It makes for interesting dinner conversation, if not always a welcome one.

Thanks, Kenzie. Nothing quite stokes one's appetite like bug spray and rehabilitated waitstaff. There's a novel in there somewhere, assuming their spanakopita is really as good as you say it is.
Next Monday: Another author and another meal!

NB: links to authors and books here are included as part of an Amazon Affiliate account. If you follow any of them and ultimately make a purchase Amazon rewards me with a few pennies of every dollar.
Want to never miss an installment of EATING AUTHORS?
Click this link and sign up for a weekly email to bring you here as soon as they post.
Tags: Eating Authors