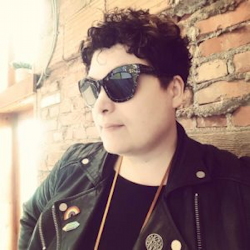 I think it's fair to say that the first week of this new year has been anything but dull.
I generally avoid engaging in politics in any of my social media platforms and outlets. I like to believe that everyone is entitled to an opinion, even if I think it's misguided or wrong or stupid, because, let's be honest, there are certainly times when I've been misguided or wrong or stupid. The exceptions to his hands-off policy is when people engage in hate and violence. I don't care about your political, racial, religious, or sexual ideology if you're backing it up with a rock in your hand. Sorry, I can't engage in discussion with someone who's back-up plan is to stave in someone else's skull if things don't go their way.
On the other end of the spectrum this week, and somewhat ironically, in the morning hours before the events at the U.S. Capital, I released a new novel, Ace of Saints, Book Two in my Freelance Courier series. It's a book about metaphor and the limits of abundance, also to some extent gender, identity, and perception of outsiders. The day should have been one of joy and delight, I mean, c'mon, new book day! But all too quickly it turned to one of dread and disillusionment and far too many hours glued to cable news. Not the way I like to observe a new release.
In some ways though it sets up the segue for this week's EATING AUTHORS guest, R.B. Lemberg. They're a queer, bigender immigrant from Ukraine, Russia, and Israel to the US. R.B. lives in Lawrence, KS, and in their academic life is a sociolinguist working on immigrant discourse, identity, and gender. Seriously, give R.B. the ability to teleport people at will and they could have stepped from the pages of my novel.
R.B.'s fiction has been a finalist for the Nebula, Crawford, and other awards. They've set many of their stories — including their latest novella, The Four Profound Weaves — in "Birdverse," an LGBTQIA+-focused secondary world.

LMS: Welcome, R.B. Is there a meal that stands out from all others for you?
RBL: Some of the most memorable meals in my life were the ones I made for Bogi, early in our courtship, in my first home in Lawrence, KS. The meals themselves I remember only vaguely. I was still on a green card, and rising from the ashes of my disastrous first marriage, which ended a year or so prior; Bogi was visiting from Hungary to investigate graduate schools, and to meet US friends.
A few months later Bogi was back, again to visit graduate schools – but also to visit me; and finally, they were back to begin graduate school in Iowa City, about a six hour drive away (longer on Greyhound). We were a couple by then, but because of the mess that visas and the US immigration system made of our lives, we could not live in the same town, so visits were what we had.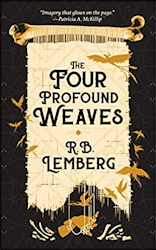 Back then I lived in an old, falling-apart midcentury marvel with thin walls paneled in mahogany plywood; every movement of the wind outside would make the house reverberate like a bell. Every rain made the windows leak. In the middle of the house was a two-sided open fireplace built exquisitely from thin Roman brick; one side looked into a large living space, the other into the cozy, tiny dining room. I remember nights of rain, and the house making its music while the fire roared. I cooked low and slow, in the red dutch oven I bought years ago with the proceeds of my first story sale – braised beef stew, Uzbek plov, stuffed cabbage – fortifying foods of my childhood. When Bogi would arrive, often soaking wet and cold, we would sit with our backs to the roaring fire and eat. There was a pair of turkey drumsticks that I braised for hours while Bogi's Greyhound bus was stuck somewhere. I think of that turkey drumstick as the pinnacle of my cooking. I remember Bogi's face, stolen from the darkness by the reverberation of fire; the pure joy of it.
I love to cook – cooking at its best for me is like writing, like poetry – it is about getting to the very essence of things, a secret heart of making; words and textures recede to make place for pure feeling. And it is the feeling I remember – after an unwanted separation, a return; the deep, slow flavor of the meat, the magic of the fire, the pin oaks sighing in the wind, the stars hanging heavy and bright in the deep Kansas sky, and inside it is warm and, for the time being, safe.

Thanks, R.B. Having spent four long winters in eastern Kansas myself, your words bring back vivid memories indeed. As timing would have it, the weather today is quite cold and the wind outside is blowing with a vengeance. Maybe I should cook up some drumsticks? I think my wife would approve.
Next Monday: Another author and another meal!

NB: links to authors and books here are included as part of an Amazon Affiliate account. If you follow any of them and ultimately make a purchase Amazon rewards me with a few pennies of every dollar.
Want to never miss an installment of EATING AUTHORS?
Click this link and sign up for a weekly email to bring you here as soon as they post.
Tags: Eating Authors