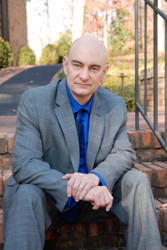 In the US, it's Memorial Day, considered by many to be the "official" start of summer. In the FSF community it's also the end of arguably the busiest convention weekend on the calendar. I was only able to sneak away to one day of a convention on Saturday, owing in large part to my heading up to Book Expo America & Bookcon in a couple days, and the Nebula Awards shortly after that. Coast to coast, I hope to catch my breath by the second week of June.
Meanwhile though, here at EATING AUTHORS, we interrupt this year's series of meals from Campbell Nominees to bring you a visit from editor-turned-novelist Lou Anders. He appears to have always been drawn to words, having worked as a playwright, a journalist, a screenwriter, and an editorial director and art director in publishing (winning both the Hugo and Chesley awards for that last one).
You might have heard the old joke that many actors really want to direct. I suspect that a corollary to that is that many editors really want to write. And so I'm pleased to tell you that the paperback edition of Frostborn, Lou's first novel, comes out tomorrow. And in less than two months you'll be able to pick up a copy of the sequel, Nightborn as well.
Before that though, let's find out about his most memorable meal.