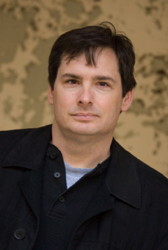 The 2014 Hugo ballot came out over the weekend and there is much hooplah in the streets of our genre right now. Congratulations to the many fine people who were nominated; I'm looking forward to seeing you in London. But that's months away, and we need to focus on more immediate concerns, such as this week's EATING AUTHORS guest!
Like me, Daryl Gregory was born in that city that led Carl Sandberg to wax poetic about its many aspects, and thus doom thousands of junior high students to painful memorization (I'm talking about Chicago here, in case that was too obscure or bizarre a reference). Unlike me, his parents didn't haul him west. I'm sure there are other differences too.
And unlike some writers who find they can work at only one length or format, Daryl writes novels and short stories, comic books and graphic novels, and he does them all well. His first novel, Pandemonium, won the Crawford Award, and was short-listed for the World Fantasy Award, the Mythopoeic Award, and the Shirley Jackson Award.
Daryl's latest novel, Afterparty, hits bookstores everywhere tomorrow. Go buy a copy, because there's a good chance you'll be seeing it on next year's Hugo list!