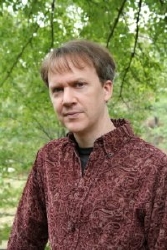 I'm preparing today's installment of EATING AUTHORS more than a week in advance because I'll be on my way back from California when it posts, returning first from a bit of vacation, which will have been followed by the 2013 edition of the Nebula Awards conference. That's going to serve as a segue into today's guest, Howard Andrew Jones, who I first met earlier this year at a different convention.
It happened the way it often does, a bunch of authors hanging about as part of a "meet the pros" event, gathered in an otherwise empty ballroom, drinks in hand, doing that combination of mingling and telling lies that you find at such events. Depending on the venue, you're more apt to spend your time chatting with other authors than fans, and that was the case this time out, which led me to meeting Howard, so it all worked out.
While's he's toiled behind the scenes as the managing editor over at Black Gate since 2004, in more recent years he's been coming on strong as a novelist. 2011 saw the release of his debut novel, The Desert of Souls, which he followed up with sequel The Bones of the Old Ones last December. More is surely coming.