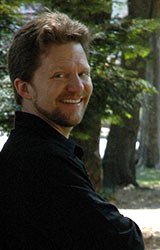 Every year it seems there's a point where you look up and suddenly realize that the year seems to be whizzing by. For me and for this year, it's just happened. How can it possibly be late March already? How is it we have crossed that rotational marker of the vernal equinox? But no, I'm not going to wax on about temporal relativity (though I suspect doing so might slow things down considerably). Instead let's move on and talk about this week's EATING AUTHORS guest, Tee Morris.
I've known of Tee for years and years, our orbits frequently crossing at conventions (mostly typically Balticon), but we've rarely found ourselves with the leisure to just hang out, shoot the breeze, and get inside one another's head. That's hardly surprising though, as I can't recall ever seeing Tee when he wasn't running around, spinning multiple projects at the same time, radiating tremendous enthusiasm and energy all the while. The man is dangerously infectious that way.
But more than being eternally busy, Tee's a great example of a writer who draws on other skills to create his fiction, in his case his years of experience as an actor. You'll spot this most easily in his voice work, and indeed Tee is famous for being a pioneer and innovator in the world of podcasting. But it shows up in both broad and subtle ways when you read one of his books. His characters glide across the page, hit their marks, execute their lines with perfection, and manage their exits with an economy of motion. If you didn't know this about Tee's background before, keep it in mind when you pick up a copy of his new book, The Diamond Conspiracy. It's the latest novel in the A Ministry of Peculiar Occurrences series, co-authored with his wife, Philippa Ballantine, and you'll be able to get a copy in a mere eight days.