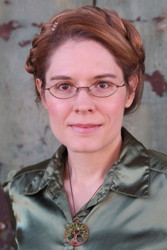 Our guest this week is Beth Cato, and you've probably been reading her work for years without knowing it. She's written inspirational essays for nearly a dozen of the Chicken Soup for the Soul volumes, including Chicken Soup for the Soul: Inspiration for Writers: 101 Motivational Stories for Writers – Budding or Bestselling – from Books to Blogs, which really brings things full circle in a way.
Beth has also written short stories for a long list of anthologies (such as a wonderful piece that I bought and published in the pages of Cucurbital 3). She has a great voice, and I encourage you to go out and read her work.
But neither soup nor short fiction is why she's here gracing this blog today. We're all about novels here, and tomorrow marks her formal transformation as a shiny new novelist with the launch of her first book, The Clockwork Dagger, from Harper Voyager. It's action and adventure with assassins and airships, spies and steampunk, and much more. Buy a copy now and boost her release day sales; we're going to want to ensure that her publisher demands more books from her.