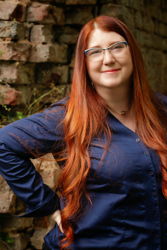 Last month I was attending Storming the Confusion, a wonderful convention in Detroit that changes its name and theme each year and always has a wide assortment of friends and colleagues that I want to see. This year's convention proved no different, and if I had my druthers we'd all still be there.
Among the many people present was this week's EATING AUTHORS guest, Jenn Lyons. I first got to know Jenn (and her husband, Michael) while we were all hanging out in the lobby of a hotel in Helsinki (as one does), waiting for our parties to gather so we could venture into the night to our respective restaurants. At the time, Jenn was waxing about her upcoming series from Tor Books. We shared a few stories and parted smiling, because it's always joyful to hear of another author's good fortune. Time passed, and the following year although we were all at Confusion, I didn't see them until I was at the airport waiting around for my flight and they hauled me into a restaurant. We sat and had a meal and another great talk. I asked Jenn when the first book in her series was coming out and would she like to come talk about a meal when it did. She said she would, but the book wasn't out for another year.
This year, not long before Confusion, Jenn reached out and said basically, "Hey, remember that book, it's coming out the first Tuesday of February." I said, "Well, what a coincidence, I happen to have an opening in the schedule the first Monday of February." And so here we are.
The Ruin of Kings, book one in her epic fantasy series, A Chorus of Dragons, comes out tomorrow.

LMS: Welcome, Jenn. What meal stands out in your memory?
JL: I will admit to being a bit of a foodie, and as such I've enjoyed some amazing meals. But the one I will always remember the most isn't because of what I ate, but because of what I didn't eat. I'll explain.
In Santa Monica, California there used to be a restaurant called Typhoon which looked out on to the local municipal airport runway. (Tragically, Santa Monica has since closed that airport and the restaurant with it.) Typhoon was a lovely location with a fantastic view of the planes taking off and landing, and they served some phenomenal Pan-Pacific dishes. I loved going there and I loved taking my friends.
Normally we ordered the regular dishes off the menu. But that was very much a choice: Typhoon also had an extensive menu of insects.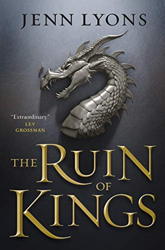 So, with that in mind I had invited a friend to dine there with me for the first time. He'd arrived early, and he'd ordered a cocktail. Actually, he'd ordered a couple of cocktails. He was feeling pretty good by the time I arrived. Good enough that, unlike every other friend I'd ever taken there, he wanted to order off the insect menu.
So that's what we did.
And you know, it was a great meal. We'd ordered more normal fair too. Typhoon had a Chinese chicken curry dish that still haunts my dreams and their Filipino barbecue pork was always a 'must order' item. Then there were the insect dishes. Manchurian ants on shoestring fries were surprisingly delicious. The ants tasted like vinegar. Stir fried crickets in a very spicy sweet and sour sauce were delicate and nutty.
Then the scorpion arrived.
Now, I had expected a plate of small, fried scorpions, something like the crickets. This was…not that. Imagine a single pristine black scorpion sitting on a small white plate. No forks, no lobster crackers, no utensils of any kind. The scorpion easily measured four inches long with the tail curled tightly up over its body. The fried carapace gleamed shiny and hard.
My friend and I sat there and stared at it. He was tipsy; I was sober. It made no difference.
We stared harder. Neither of us made a move to try to eat the damn thing. The problem, you see, was one of commitment. With the other insects, we'd been able to see what we were getting into – literally in the case of the crickets. But this scorpion? We didn't know. We couldn't know. Would it be like lobster on the inside? Would be it something…else? The only way to find out would have been for one of us to grab the thing, bite down hard, and accept the consequences. This was a culinary leap into the unknown, a freefall without a parachute. This was looking into the abyss and discovering that not only was the little monster looking back, it made rude finger gestures. I like to think we both learned a truth about ourselves that meal.
We never ate the scorpion.

Thanks, Jenn. My sister used to live in Santa Monica and so I'd driven past that airport many times. I did not know about the restaurant though or I'm sure I'd have mounted an expedition to sample the insects. Even so, I doubt I'd have eaten the scorpion either.
Next Monday: Another author and another meal!
Want to never miss an installment of EATING AUTHORS?
Click this link and sign up for a weekly email to bring you here as soon as they post.
Tags: Eating Authors