Just over two weeks ago, I participated in the online convention of SFFCon, and I so enjoyed myself that for the first time in more than a year, I've been thinking a lot about attending conventions. For health reasons, at least for now, I'm limiting my focus to events within driving range. Fortunately, the 2021 World Science Fiction Convention (aka DisCon III) is in Washington, D.C. less than three hours away. Their hotel opened to reservations last week and I swooped in and secured a room before they ran out. So that's where you can find me come December. Before that though, I'll be heading down that same general direction for Capclave in early October. I like that convention a lot (sharp-eyed readers may have noticed I dedicated my last novel to them!). At this stage, I don't know if I am willing to do programming, let alone sit in a crowded room to attend anyone else's panels, but worst case scenario I'll spend the weekend hanging out in the lobby and visiting with anyone who comes by.
I mention all of this not just to clue you in to my upcoming schedule, but because it was during the aforementioned SFFCon where I met CW Lamb, this week's EATING AUTHORS guest. Charlie took on the challenging task of moderating a panel entitled Creating an Alien Civilization that included myself, Shelina Valmond, Allen Stroud, and SJ Schauer. He did a great job and the experience was a blast, so naturally I asked him to come here and share a meal.
Charlie's a fun guy and he's not above slipping a bad pun into his fiction. Life has moved him around from the Southwest to the Pacific Northwest and across the country again to Jacksonville, FL where he now makes his home. Not content to sit indoors at his keyboard (writing is only a part-time gig), he enjoys boating, scuba diving, shooting, motorcycles, and classic cars (but probably not all at once).

LMS: Welcome, CW. So, let's talk about your most memorable meal.
CWL: I consider myself to be a bit of a Foodie, so just picking one memorable meal is a little like asking a mother of four to pick her favorite child or, more appropriately, for an author to pick their single favorite book.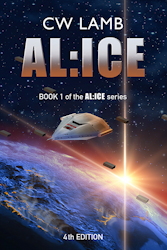 For pure ambiance and a fantastic food experience, I have to go with my trip to New Orleans in 1992 for the IMSA Grand Prix du Mardi Gras. I was a design engineer for Dan Gurney's All-American Racers, and we were in an all-out brawl with Jaguar for the Manufactures Championship Title that year. The midpoint of the season was the New Orleans race, and we were one win behind Jaguar at this point.
The racecourse wound through the Superdome's adjoining city streets, and we made our temporary home on the stadium floor inside the dome itself. Working here allowed us easy access to the famous French Quarter and all of the renowned eateries. We headed out at night, searching for dining adventures, and then to the famous Café Du Monde for coffee and beignets at breakfast.
The night before the big race, we had a busy day practicing and preparing the racecar. Once finished, we made our way toward the river and the many bars, cafes, and restaurants hidden within the Quarter. It was in one of those back-alley bistros where I ordered the best pork chops with red beans and rice I have ever experienced, before or since.
Pork served atop a bed of beans and rice, the seasoning and blended flavors had me enthralled with every bite. Unfortunately, I was soon stuffed to the gills, a clean plate before me, and no room for dessert. My biggest regret is that I never bothered to learn the establishment's name, to pass on its fame, so it lives in my memory as a mystery location.
We would go on to win that race and seven more races in a row that year to lock down both the Manufactures and Drivers championships.

Thanks, Charlie. Some of the best food exists in New Orleans, and you're now the fifth person who has misplaced a phenomenal restaurant there (mine vanished under mystical circumstances, replaced the following day a vacant lot).
Next Monday: Another author and another meal!

NB: links to authors and books here are included as part of an Amazon Affiliate account. If you follow any of them and ultimately make a purchase Amazon rewards me with a few pennies of every dollar.
Want to never miss an installment of EATING AUTHORS?
Click this link and sign up for a weekly email to bring you here as soon as they post.
Tags: Eating Authors