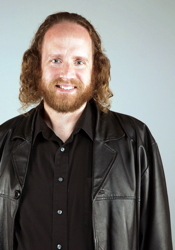 The upcoming massive Blog Tour for Barsk has taken over much of my life of late, as I respond to Q&A, requests for topical essays, and my thoughts on various aspects of the writing process. Most of these don't go public for another week or more, but one that has burst on the scene is a piece for the Powell's newsletter that I think came out rather well and is worth directing you to.
In the midst of all this chaos, it's been both refreshing and gratifying to prepare this week's EATING AUTHOR post for Eric James Stone. I've known Eric for a very long time, since the earliest days of the online writing community known as Codex. I had the privilege of watching him craft stories for the group's various contests, and I knew early on I was in the presence of a unique and powerful voice. Which is why I put on my small press publisher hat and in the midst of a worldcon some years back I pitched the idea of producing a collection of his short fiction. The book, Rejiggering the Thingamajig and Other Stories, came out the same weekend that Eric won the Nebula Award for Best Novelette, and seeing Eric climb the podium to accept his prize was one of the happiest moments I've had at an awards banquet.
Eric's been busy having other happy moments. He and his wife just welcomed their first child into the world (I won't be surprised if some time goes by before either of them manage to surface long enough to see this post on the internet). Almost anti-climactic by comparison — but a significant professional milestone — comes up in just over three weeks, as on January 5th, Eric makes the jump from short story writer to novelist with the release of Unforgettable. A fitting title for a book that's going to firmly establish his presence on the SF map.