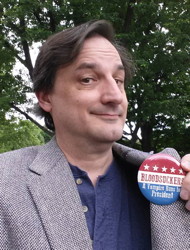 Welcome to the last Monday in August, which this year also happens to be the first Monday after LonCon3, the 72nd World Science Fiction Convention. If you were among the record numbers who attended this year's Worldcon, then dropping in here at EATING AUTHORS will allow you to catch your breath. As for the rest of you, please breathe normally.
Our guest this week is Michael A. Ventrella, a member of that highly specialized fraternity, F/SF authors who are also lawyers. And given the behavior of most authors I've met, having Michael's number in your contacts list is probably a good idea as it's only a matter of time before we're all going to need an attorney. Until then, let's focus on Michael's work in the genre. His most recent book, Bloodsuckers, blends classic vampiric tropes with something truly horrific: politics. Vampire fiction has been overmined in recent years, so it's particularly gratifying to have a refreshing take, regardless of your political affiliations.
In addition to writing both short stories and novels, Michael's also built a treasure trove of interviews with other authors, putting them on the spot with seemingly innocent questions — hmmm, maybe it's not so easy to separate out the lawyer from the author. You'll find them on his website, alongside an impressive collection of writing resources. Just another example of a writer paying it forward.