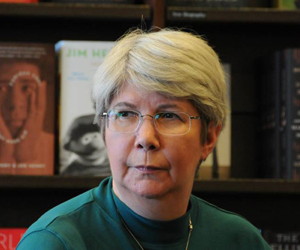 Monday has come around again, and to my astonishment we're already on our way out of January. How this happened I can't say. Nor do I trust my own suspicions on the subject, as my wife has been forcing me to watch three seasons of Sherlock at a fiercesome pace. It's all cheekbones and far too many floating typefaces.
Fortunately, we have a new visitor here today to distract all of us. Sharon Lee is of course a novelist in her own right, crafting a Maine-based mysteries (her Jennifer Pierce series) as well as a Maine-based fantasy (Her Carousel Tides fantasy series latest book, Carousel Seas, came out earlier this month from Baen). But she's perhaps best known as the co-creator (with her husband, Steve Miller) of the popular Liaden Universe and its vast, multi-generational cast of characters. I confess, I'm a huge fan of the books (and have already pre-ordered the next one, though it won't be released until June).
This past November, Sharon and Steve were the Guests of Honor at Philcon, basically in my backyard. The convention organizers asked me to write an appreciation of them for the program book, which was a great pleasure to do. And too, it gave me an opportunity to invite Sharon to drop by the blog and muse on meals past.