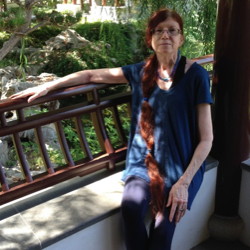 The EATING AUTHORS blog feature has been running for about three and a half years now. Sometimes, when I reach out to an author everything falls instantly into place. Other times — and this is far and away the more typical situation — the author's schedule is jammed with commitments, deadlines, travel, and other obligations such that we may spend months playing email tag. And then, once I have the author's most memorable meal in the can (so to speak), it can be quite the ordeal to find a spot in the calendar to actually post it.
I mention these behind-the-scenes issues because this week's guest, Sherwood Smith, very graciously provided the following meal back in early February and I'm only getting to sharing it with you now. That's on me, and I am heartily embarrassed that it's taken so long to fit it into the schedule. But Sherwood's a pro, and she understands that despite the best intentions, stuff happens.
And I think you'll agree that it's been worth the wait, because Sherwood's been a finalist for the Nebula Award, as well as the Mythopoeic Fantasy Award. She's co-written books with Andre Norton, written several new books in the tradition and world of Frank Baum's Oz, published work under three pseudonyms, tried her hand at media tie-in novels, and best of all blown away readers with the many volumes she's set on the world of Sartorias-deles. If you're not already familiar with her work, click any of the covers below to immediately correct this oversight!