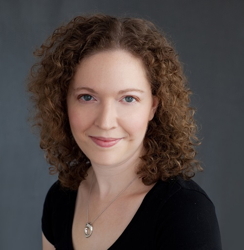 I saw my first firefly of the year a couple evenings ago, which for me marks the real start of summer (forget Memorial Day or the solstice, I'm here to tell you, it's all about the fireflies). Signs. Signs and portents. Which is about as good as I'm going to be able to manage for a segue to introduce you to Stephanie Feldman, my guest this week here at EATING AUTHORS, whose first novel, The Angel of Losses won the William L. Crawford Fantasy Award earlier this year. And, if that's not enough for you, it was also a finalist for the Mythopoeic Fantasy Award, as well as landing on the Washington Post's Five Best Science Fiction/Fantasy Books of 2014.
Stephanie continues the glorious tradition of awesome authors living in the greater Philadelphia area (seriously, there must be something in the water here). For reasons that I cannot begin to comprehend, I've not seen a lot of buzz about this book, and so please believe me when I tell you that it is nothing short of incredible and seriously, why haven't you clicked the cover image below and already ordered a copy? By the way, the paperback version of her book comes out a week from tomorrow, so you're really running out of excuses.
Oh, and one final plug (in case you're live in or plan to be in Philadelphia), in celebration of the paperback release, Stephanie will be appearing at a local Barnes & Noble (1805 Walnut Street, Philadelphia) alongside novelists Daniel Torday and Cecily Wong. It's all taking place on Wednesday, June 24th, starting at 7pm. The word on the street is that Geekadelphia will be there running a trivia quiz. Expect readings, prizes, and possibly even (gasp!) cupcakes.