As happens every month, this particular Monday has me heading back to the hospital for my routine oncology check-up. What's a little different this time though is I'm four weeks out from my third COVID-19 vaccination, a jab of the ol' J&J brew to supplement the two ineffective (i.e., non-reactive) Pfizer vaccines from January and February. I'll be getting tested for the presence of antibodies and maybe, just maybe, I will get to come out of lockdown mode. Here's hoping.
Meanwhile, regular readers here will know that I was recently part of a book bundle organized by the IASFA. It was a good project, and it created the opportunity for me to become acquainted with more of the group's members. That's the segue today because one of my co-bundlists was Eric Klein, and it only made sense to invite him to be this week's EATING AUTHORS guest.
He has a keen focus on how science and technology affect us, as can be demonstrated in his nonfiction activities in the world of Telecom and Cyber Security. Somewhere in there he found time to write fiction, a hard SF novel that includes a tour of the solar system.
Eric describes himself as an avid science fiction and fantasy reader, a huge Star Trek fan, and a Shakespeare aficionado. Clearly it's only a matter of time before he applies himself to Klingon so he can read the Bard in the original language.

LMS: Welcome, Eric. What stands out in your memory as your best meal ever?
EC: Now that is a hard question, I have had many meals with great food and company. But the one that stands out is when I was knighted into the Confrérie de la Chaîne des Rôtisseurs. The Chaîne des Rôtisseurs is the world's oldest international gastronomic society, founded in Paris in 1248. It was created when Louis IX, the French King later canonized as Saint Louis, ordered the establishment of several professional guilds including that of the "Ayeurs" or goose roasters. They were a well-established guild until 1793 when the guild system was dissolved during the French Revolution. In 1950 the organization was revived as the association founding the Confrérie de la Chaîne des Rôtisseurs.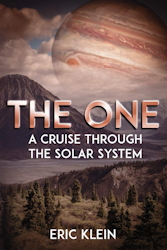 Now before I describe the meal, I would like to mention the location. Here we were, several hundred people in the ruin of an ancient Khan that was built in the 18th century during the Ottoman period. I was there with friends and family that came to see my knighting. The meal was based around venison, and each course used different parts of the red deer. Starting with the liver pâté through the filet mignon tips.
Truth be told, it was not the best meal of my life in terms of food, but the ambiance and ceremony more than made up for that. There we were, in this converted old ruin, with the light coming from candles in niches in the walls and on the tables and everyone dressed for a formal event. Then they got to the formal part of the event. There were three of us being knighted that night. And the official officiating had flown in from the main branch in Paris. But, he did not have a sword. In fact, the organization did not own a sword, so usually they would use something else for the knighting. As it happens, I do own one and had been asked to bring it. So there I was being knighted using my own sword in front of friends and family before they served the dessert.

Thanks, Eric. I'm a little surprised to learn that you had to bring your own sword. Then again, any meal that involves swords — whomever they belong to — is already off to a great start.
Next Monday: Another author and another meal!

NB: links to authors and books here are included as part of an Amazon Affiliate account. If you follow any of them and ultimately make a purchase Amazon rewards me with a few pennies of every dollar.
Want to never miss an installment of EATING AUTHORS?
Click this link and sign up for a weekly email to bring you here as soon as they post.
Tags: Eating Authors