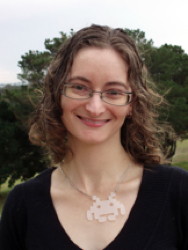 Welcome to another installment of EATING AUTHORS, the weekly blog features that answers the question can authors remember what they ate? Or… something like that. This time around our guest is Joanne Anderton, a resident Sydney, Australia, that big island/continent on the upside down half of the world over on the other side of the equator (hey, don't blame me, I don't make the maps).
I first came across Jo's fiction in the Fall of 2012 when we were both nominated for the Washington Small Press Award. Alas, neither of us won. In that same year though, she did take home the Ditmar Award for Best New Talent, and earlier this month her most recent book, The Bone Chime Song and Other Stories, won this year's Aurealis Award for Best Collection.
If you'd like to check out her novel-length work, Unbound, the third book of her Veiled Worlds trilogy is finished and coming soon. Meanwhile, the first two volumes, Debris and Suited are out there waiting for you to scoop them up.