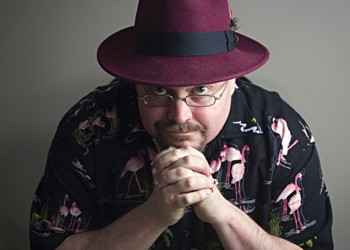 Over the weekend, I had the great pleasure to spend time with a number of Philadelphia authors who had gathered to celebrate some of their own. There was a wonderful blend of old guard and shiny newcomers, fans and pros, and a delightful array of out-of-towners from both north and south who made a brief book store event (and the party afterwards) feel like the good parts version of a convention.
Alas, all too quickly it was time to leave, and join the flow of traffic and road construction that eventually saw me to my front door, where I turned my attention to other things. Still, it was a great afternoon, and a wonderful reminder of what a blessing it is to be a part of such a community of brilliant and talented people. Thanks for that.
And speaking of brilliance and talent (he said, by way of segue), allow me to introduce this week's EATING AUTHORS guest, the incomparable Ferrett Steinmetz, whose first novel, Flex, came out earlier this month from Angry Robot.
One of the mixed blessings of the current state of our genre is that there are so many of us writing today, and more coming every day, that you just can't keep track of all the things that, in a perfect world, you would get to read. I'm convinced that whoever figures out how to really monetize curation and reduce the signal-to-noise ratio is not only going to be instantly wealthy, but deserving of our eternal praise. Which is another way of saying that despite him being a past Nebula Award finalist, it's all too possible you've never heard of Ferrett.
So here's the thing I need to tell you about him. I don't know Ferrett well — though we seem to know a lot of the same people, and these people, whom I respect, make me wish I knew him better — but there is something fresh and thrilling to his fiction, his voice, his slant on telling a story that had me sitting up and grinning when I learned he had a novel coming out. This is someone you should be reading because he will make you happy that you read. Seriously, it's as simple as that. And I don't know about you, but I want more books like that in my life.