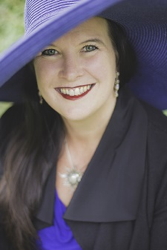 If you're reading this on time then you know who won which Nebula Awards over the weekend, something I don't know yet because I wrote this up prior to the conference and awards banquet. All I know with any certainty is it's wasn't me (I had no dogs in this race, thus ending my four year streak of nominations — hey, maybe next year).
What I can tell you, by way of a nice EATING AUTHORS segue, is that this week's guest Jeffe Kennedy has been elected to the SFWA Board as one of our new Directors-at-Large. She takes office on July 1st, and I'm looking forward to having her join the Board as she continues her history of service.
But let's talk a bit about her accomplishments as an author. She has dozens of published novels, including her award-winning Fantasy romance series Twelve Kingdoms. Last year she started two new series.Sorcerous Moons has already spawned four volumes in just six months. And her Uncharted Realms series has released a more modest two books in seven months, with a third due out this summer. It's an impressive — and intimidating — pace, but one that her fans surely appreciate.