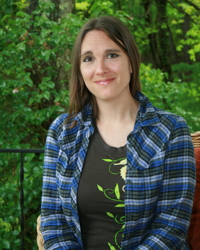 I met this week's EATING AUTHORS guest in Kansas City back in August. There I was, up at the crack of 8:30, participating in the WorldCon's "Stroll with the Stars" as I like to do. About two-thirds of the way through the route I noticed two women in front of me, chatting as they walked. The one on the left had a t-shirt with some superlative on the back (sorry don't recall what now) that referenced whatever was on the front and I realized it was going to make me crazy if I didn't find out what was on the other side. So I said "excuse me," brazenly interrupting their conversation, apologizing for my rudeness, and explaining that I was the t-shirt variant of earwormed (or something like that).
The issue was quickly defused — I think it was a shirt for a local pizza place, but again, it's a blur — and the three of us started talking about more traditional convention-type things. Which is how I learned that one of them, Jamie Lackey, was a novelist and her first book, Left-Hand Gods, had come out just the month before from my old publisher Hadley Rille Books.
Like many of the authors featured here, Jamie studied under the legendary James Gunn. She's written more than a hundred short works in horror, science fiction, and fantasy (and check out her zombie post-apocalyptic novella, Moving Forward). But our usual focus here is novels, so let's get back to her debut. It's a fantasy adventure involving magic and handedness. Kudos, Jamie, for a marketing ploy that will get all the lefties picking up a copy!