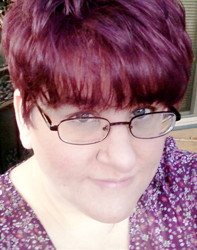 This week's guest is E. Catherine Tolber and she occupies a special place in my heart, not because she was a finalist for the Sturgeon Award back in 2013 (she was), but because she bravely accepted the challenge to create a story for an anthology I was publishing. An anthology, I might add, with the gimmick that all the stories began with the same three writing prompts: watermelon, turtle, sex worker.
Having recovered from that experience, she's gone on to write novels. Her first book, Rings of Anubis was released by Masque Books (a digital imprint of Prime Books) in late July and her second novel, Watermark, comes out tomorrow.
Many writers also know Elise not for her writing, but for her editorial prowess. She's the senior editor over at Shimmer. So, if you've ever found yourself on the wrong end of one of her rejection letters, in addition to her own short fiction, you now have a pair of novels to study to learn how to get it right. And too, her remarks on her most memorable meal may also prove instructive.