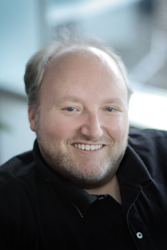 If you're reading this Monday morning, please know that I am in a state of quantum indeterminacy, which is to say I should be flying home from Vancouver, Canada on a red eye flight that left the west coast on Sunday just before midnight and doesn't deliver me to Philadelphia until nearly noon today. Of course if you're reading this after twelve o'clock then someone has already opened the door and knows the health of the cat.
Regular readers of my blog will know that at the beginning of the month I embarked on a dietary journey into the unknown, declaring my new allegiance as a pescetarian. It's going okay so far, but I mention it now because this week's EATING AUTHORS guest, Kevin Wohler, is here to tell you about a revelatory experience involving seafood, and I can relate.
Kevin is the author of The Alchemist's Notebook, the first book in The Village Alchemist series. The sequel, The Alchemist's Stone, should be coming your way this spring.
There's not much else I know to tell you about Kevin. He lives in Lawrence, Kansas, but I don't hold that against him as I don't know whether or not he attended KU (I did my grad work at rival school KSU in Manhattan, Kansas) so I'll just pretend he lives in a city that bears my name. But I'm warning you, Kevin, if I find out you're secretly a Jayhawk, it's on!