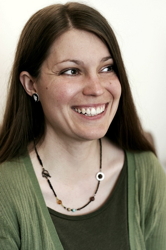 This past Friday I was down in DC doing two final appearances to mark the official end of a year of traveling around and promoting Barsk, one at the Library of Congress, and the other at a meeting of the Washington Science Fiction Association. All in all, I spent 114 days of 2016 traveling to conventions and signings and readings. That's almost a third of the year on the road. What was I thinking? Just typing about it makes me tired.
And it's as close as I'm going to get to a decent segue to this week's EATING AUTHORS guest, Becky Chambers, whose first novel, The Long Way to a Small, Angry Planet, may well be the most delightful space adventure I've ever read. Which is why you shouldn't be surprised to learn it was nominated for both the Arthur C. Clarke and British Fantasy awards. Better still, it's only the first book in her Wayfarer series. But wait, best of all, according to her Twitter page (which contradicts the presumably older website), she's working on the third book even as we speak.
Doubtless, many of you are waiting to read that third book right now. And I confess, I feel a little guilty distracting Becky with emails asking her come and talk about food. Alas, not guilty enough to stop myself though.