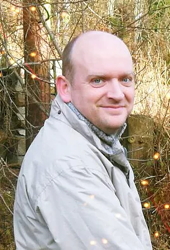 When I appear on programming at conventions, I go to great lengths to make sure they include my middle initial anywhere they use my name. I'm successful about 80% of the time now. It's not that I'm a diva, it's that there's another Lawrence Schoen out there who also has a doctorate in psychology, and he got there first. So, I make a point to always use that M (it's for Michael, in case you're curious). Meanwhile, that other Lawrence Schoen, the poor bastard, has had more than two decades of people badgering him about Klingon.
But that's nothing compared to what this week's EATING AUTHORS guest must put up with. Kevin MacLeod is the internationally best selling author of the Viking Apprentice series (the first book of which was credited on March 23rd, 2015 as the most downloaded children's ebook in the world, with over 23000 downloads that day alone!). Kevin — born and bred in Hamilton, a town in the central lowlands of Scotland — shares his name with two footballers (one English, one Australian), a Canadian ice hockey defenceman, the former Canadian Secretary to the Queen of Canada, and several musicians. And that's not counting the variations of Kevins who spell the surname McLeod or even McCloud and also suck up bandwidth on internet searches.
Despite such complications, his readers find him just fine.