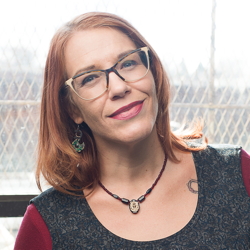 After a week off, we once again resume our annual tradition of highlighting this year's Campbell nominees. Already reporting on their most memorable meals: Ada Palmer, Sarah Gailey, and Malka Older. Still no word from either J. Mulrooney or Laurie Penny, but their names are on the ballot so please check them out all the same. Meanwhile, for this week's EATING AUTHORS entry, let's focus on Kelly Robson.
You should know Kelly for her short fiction. More to the point, unless you were living under a rock last year, you've read her novella Waters of Versailles which appeared at Tor.com and won the Aurora award, as well as picking up nominations for the Nebula, World Fantasy awards. In addition, Kelly also took home a nomination for the Sunburst and Sturgeon awards last year. So, yeah, you kind of get an idea of why she's up for the Campbell this year.
And, regardless of what happens in Helsinki, Kelly returns to Tor.com in a few months with a brand new novella — heads up, nominators! Gods, Monsters, and the Lucky Peach promises to be a time travel tour du force. Don't miss it!