October has not exactly been kind to me thus far. First I gavorched my back, and just as that was healing I somehow managed to wrench my left arm. I can only assume that I have a dissociative disorder and late at night when I should be sleeping I enter into a fugue state and put in a shift on the docks as a longshoreman. This might also explain why I'm always tired. Though I suppose the extra money is nice…
The big news is that the EATING AUTHORS Kickstarter is doing quite well. We hit the initial funding before the end of the third day, guaranteeing there will be an ebook. We've unlocked the first two Stretch Goals and are closing in on the third, and there's more than two weeks left so I am cautiously optimistic that we'll reach the fourth goal, which will mean a trade paperback of the book.
I'm going to call that a segue, because one of the last meals that's going in to the book is the one you're about to read from none other than Robert J. Sawyer, whom some have called the hardest working SF author in Canada. That may be so, but I prefer to just call him my friend.
Rob hasn't just won the Hugo and the Nebula, he's taken home the Seium, the Prix Aurora, the Campbell, the Smith, and the Heinlein awards too, as well as others too numerous to mention here. His fiction has been adapted for television. He's taught science fiction writing at several universities and colleges, taken on the post of writer-in-residence multiple times, and done frequent television commentary and public speaking. He has received two honorary doctorates and served time as the president of the Science Fiction and Fantasy Writers of America. Oh, and there's the small matter of his having been awarded both the Order of Canada (the highest honor given in the country) and the Order of Ontario (the highest honor given by his province). And he's the only other author I know who owns a replica Neanderthal skull.
Rob is also generous with his time, always supportive of newer authors, and writes one heck of a blurb. It's inconceivable to me that you might not have read his fiction, but if that's the case I'm confident that reading his most memorable meal will inspire you to click a link and correct that oversight.
I confess, I've been waxing a bit nostalgic writing up this introduction. One of the last conventions I appeared at had me sitting next to Rob on a panel. It was a glorious time, and a room full of people heard him repeatedly threaten to kill me, but that's another story…

LMS: Welcome, Rob. You've been a difficult man to wrangle for a meal, but my dogged persistence has paid off. Please tell me about the dinner that stands out in your memory.
RJS: Twenty years ago, in the summer of 2000, my twelfth novel, Calculating God, had just come out. The publisher was Tor, headquartered in New York, but they contracted out their Canadian distribution to a wonderful firm called H.B. Fenn and Company, based just north of Toronto, where I live. The fine folk at Fenn very much took me under their wing: as distributor of foreign-published books, they rarely had a local author to work with, and I became part of their family.
And when family calls and asks a favor, you say yes. So when Heidi Winter, my publicist there, called to say she had an author coming in from out of town who had nothing to do the evening before his public event, and she hoped I wouldn't mind taking him out to dinner, I agreed at once. She hastened to add that, of course, I should send the bill to Fenn for reimbursement.
No problem, I said. Happy to help. And who might the author be?
Heidi and I were talking on the phone, but I can just picture the grin she must've had on her face when she told me: Buzz Aldrin.
We didn't say OMG back then; we said all three words and we sometimes threw a fourth that started with F in there for emphasis. I can't remember for sure, but I wouldn't be surprised if that's precisely what my response had been.
The man born Edwin E. Aldrin, Jr., was the second human being to walk on the moon, and, as Heidi told me, he'd collaborated on a new Tor novel with my pal John Barnes: The Return, about the future of human spaceflight, particularly space tourism, a topic, as I learned over that dinner, that Buzz was very much an advocate of.
Although John had done the lion's share of the actual writing, Buzz was the one Tor sent on tour — and not only was I to wine and dine him on his first night in town, but the next night I myself was to be the on-stage interviewer for his appearance at the Indigo bookstore in Toronto's Eaton Centre.
Toronto is a vastly multicultural city — there really is no cuisine you can't get here — and, despite my own pedestrian taste in food, I would have been more than content to take Buzz anywhere he might have wished to go. But even a space travelers gets jet-lag, apparently: he said he just wanted to eat in the hotel restaurant, and so Carolyn and I had an amazing two-and-a-half-hour dinner with him at Accents, the steakhouse at the Sutton Place Hotel, sadly now defunct.
Buzz is a real raconteur, and he regaled us with stories. But he's also a real salesperson, and spent a lot of time on his pitch for a modular space-vehicle design geared to bring average citizens into orbit. At seventy years old, the guy had more energy than I, just forty then, had.
I asked him if the rumor was true that he'd performed Holy Communion at Tranquility Base, and he, a devout Roman Catholic, said absolutely yes.
Although Buzz noted that he loved visiting Canada, he was pissed that he couldn't use the airport lounge he'd wanted to. He thought all airport lounges everywhere should welcome astronauts, but the airlines had apparently balked, saying there were too many astronauts now. Buzz had an answer, though: fine, he said, limit it to real astronauts: those who had undergone TLI. A lifelong space buff, I knew that this was trans-lunar injection — leaving Earth's orbit and blasting off to our neighboring world. Apparently, though, Buzz said, John Glenn, who had spent more time in space than Buzz had, but only had made it to low Earth orbit, rejected this distinction.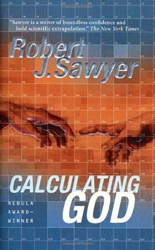 When I said John Barnes and I are pals, Buzz pulled out his flip cell and called up John, saying to him, by way of hello, "I'm having dinner with an illegal alien" – a little reference to my then-recent novel Illegal Alien. John and I chatted for a bit — always a pleasure — but I'm sure I rushed him off the phone, eager to get back to Buzz. Even so, Buzz's phone, well, buzzed a fair bit during dinner — there were negotiations going on about trying to place the movie rights to The Return. This was long before our current era of cheap international roaming, but I suspect such trifles didn't occur to a man who'd taken a call from the White House while on the surface of another world.
The bill for the three of us came to Cdn$221.59, including tip. I sent the receipt to H.B. Fenn, but, really, I'd have gladly paid for this opportunity. A writer hopes for a certain immortality — that his or her books will live on — but Buzz has real immortality. At Tranquility Base, on the lower stage of the Lunar Module, is a plaque that says, "Here men from the planet Earth first set foot upon the moon," along with his John Hancock. I didn't ask Buzz for an autograph that night, but whenever I look up and see the Mare Tranquillitatis, I know his signature is there and always will be. That knowledge, and my memories of that wonderful dinner, are all I need.

Thanks, Rob. One of the perks of our business is the occasional opportunity to meet and chat with people who have gone into space. I've met three astronauts, and even dined with one myself — and I count myself incredibly fortunate for that meal. But dinner with Buzz? I'm just agog. Seriously.
Next Monday: Another author and another meal!
author photo by Carolyn Clink

NB: links to authors and books here are included as part of an Amazon Affiliate account. If you follow any of them and ultimately make a purchase Amazon rewards me with a few pennies of every dollar.
Want to never miss an installment of EATING AUTHORS?
Click this link and sign up for a weekly email to bring you here as soon as they post.
Tags: Eating Authors