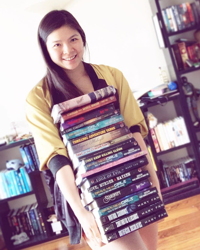 For the past several days a lot of my focus has been on my first ever Kickstarter campaign, an attempt to raise funds to allow the publication of an an EATING AUTHORS book, a selection of 100 meals from the ten years I have been running this weekly blog feature. The project launched last Wednesday, and hit its basic funding level in less than three days, which ensures that there will be an ebook at the very least and that all backers will also receive a *bonus* ebook of short stories by some of the authors who are featured in the main book.
That leaves several weeks to keep raising funds that in turn will open up additional stretch goals of free novelettes, novellas, and novels for all backers, as well as firming up the likelihood for trade paperback and even hardcover versions of the book. Best of all, once the campaign ends and the book becomes available for purchase (regardless of the format), 100% all profits from sales will be donated: half to Cancer Research and half to the SFWA Emergency Medical Fund.
Here'a link so you can check it out: kickstarter.com/projects/schoen/eating-authors. Oh, and did I mention there are some incredibly cool rewards you can lock in, like one-on-one Zoom chats, online Kaffeeklatsches with assorted authors, autographed books, and more? Many of these are available in limited quantities and going fast so don't delay!
And speaking of delays, I've been holding on to this week's guest's meal for a while now, because I wanted to focus on the recent string of authors I've featured who are contributing to the Hellcats anthology. But Mary Fran has waited long enough, particularly when you consider that I invited her back around the time that Pangaea: Book III: Redemption came out (we both have stories in it).
Mary currently resides in New Jersey, but she got there by way of North Carolina, Hong Kong, and Beijing. She has a B.A. in Music from Princeton and a day job in financial marketing. In addition to her own fiction, she's co-edited the excellent Brave New Girls series, five volumes of stories featuring heroines who fix robots, build super suits, hack interstellar corporations, mess with alien chemicals, and work on time machines. And in keeping with this week's theme of charity projects, all revenues from this series are donated to a scholarship fund through the Society of Women Engineers, cause that's just how Mary rolls.

LMS: Welcome, Mary. At long last I can ask you to talk about your most memorable meal.
MF: When I was 24, I took my kid sister, Angel, on a vacation to Universal Studios Orlando to celebrate her 17th birthday. This was back in 2012, when the Harry Potter attraction was still novel and before JK Rowling devastated countless fans with her offensive attitudes toward marginalized communities. I don't recall exactly how I got it in my head that I was going to take the two of us on a parents-free sister trip — our first ever — but I remember I'd initially hoped to do so for Angel's Sweet Sixteen.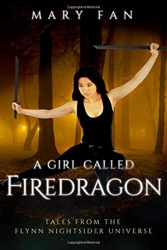 However, graduating college on the heels of a recession meant that jobs were scarce, and I was desperate enough to take one all the way in Beijing, a city where I knew nobody. Having grown up Chinese American, I felt as much a foreigner as if I'd just arrived from Mars. After over a year, I made it back to the US feeling adultier than I had any right to. I had actual money in my bank account—enough to pay for plane tickets and hotel rooms, not just a few bucks from working at the campus café. When I got back to my home country, I wanted to celebrate in the most American way possible: by going to a theme park in Florida. Angel's 17th birthday was the perfect excuse to jet off to a tacky resort and blow all my savings.
Even though there's a nearly eight-year age gap between us, we've always had a lot of fun together. I think it's because I never outgrew the "kid stuff." Stories of magic and adventure and daring quests. Stories like Harry Potter. It took me no effort at all to relate to a little kid's whimsies when I was a teen, and just as little to relate to a teen when I hit my mid-twenties.
"What are you going on about, Mary?" you might be thinking at this point. "Wasn't this supposed to be about a meal?"
I promise, I'm getting to that.
By this point in her life, Angel had developed a very adventurous palate and self-identified as a foodie. In fact, we briefly tried to start a lifestyle blog together, and her nickname was Foodie Fish ("Fish" was — and still is — my nickname for her… originally it was "Angelfish"). We'd spend hours watching Andrew Zimmern and Anthony Bourdain eat their way around the world on TV, fascinated and envious.
When we arrived in Orlando, we were filled with exuberant, almost manic energy. We were staying at the park's resort, which was full of themed restaurants and other fun ways to part you from your money. We'd chosen a long weekend known unofficially as "New Jersey week" at the Orlando theme parks. This was the week that the NJ teachers' associations met, thereby giving the kids Thursday and Friday off from school — and families an opportune timeframe to go on vacation in November, after the summer rush and ahead of the holiday madness. Hurricane Sandy had also recently hit, and all of us Jerseyans in town were relieved to get away from that mess.
It was in this enthusiastic spirit that we entered the Central American-themed restaurant at the resort. I don't remember what it was called or much of what it looked like. Only that it was dark with blue-tinted lighting. Because it was the off season, we were among the very, very few guests at the resort. In fact, when we entered the restaurant, there was only one other occupied table: a couple having an elegant meal.
When the menu arrived, we wanted to try everything on it. Especially since the offerings went beyond the usual tacos and burritos and resembled some of the amazing dishes that Andrew Zimmern and Anthony Bourdain got to eat on TV. Though Angel's actual birthday had passed a month earlier, this was to be her celebration dinner. I was feeling rich and generous now that I had my first year's income in my bank account, and I was more than ready to splurge. So I told Angel to order anything and everything she wanted. All she had to do was show the mildest interest in a dish, and I'd say, "Yeah, let's get that too."
Reader, we ordered enough food for 10 people. I don't remember the exact number of appetizers and entrées, or even what they were — I recall there was a ceviche in there, which at the time was novel to us. But we amused the waiter with our unending list of orders.
When the food arrived, it took half the waitstaff to bring it. The food almost literally overflowed off the table. Everyone was laughing — including the elegant couple at the other table, who glanced briefly at our foods' arrival, did a double take, and grinned widely. I don't think anyone expected two small-ish Asian girls to order enough food to feed a large family.
Or to finish most of it.
And when the waiter said, "Are you ready for dessert?" with a joking tone, clearly expecting us to say we were full, we instead said, "Yeah!" and proceeded to order two. I think his eyes were about two millimeters from popping out of his head.
I don't know if that was the best meal I've ever had, but it was certainly the happiest.

Thanks, Mary. It sounds like a memory as much of joy as it is of food. Which is to say, perfect!
Next Monday: Another author and another meal!

NB: links to authors and books here are included as part of an Amazon Affiliate account. If you follow any of them and ultimately make a purchase Amazon rewards me with a few pennies of every dollar.
Want to never miss an installment of EATING AUTHORS?
Click this link and sign up for a weekly email to bring you here as soon as they post.
Tags: Eating Authors