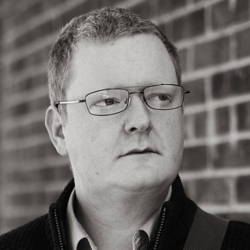 Much of the past week had me focused on medical matters. I received the second round of inoculations for all sorts of pesky ailments that I'd built up immunities to decades ago but since lost with the replacement of my immune system earlier this year. As a consequence, my arms ached for days and I acquired an impressive bruise. I've also been grappling with increased fatigue, a cumulative side effect of my chemo meds, which has had me a little frustrated because I want to be doing more more more, whereas my body wants to bump up the hours I spend sleeping each day instead.
Meanwhile I've been inspired by the nonstop efforts behind the campaign for the Hellscats anthology, which came out on the first of the month and is chugging along to raise funds to keep an old woman in her home in Armenia. I'm happy to be a part of that effort, and also very pleased to use EATING AUTHORS to turn a spotlight on some of the other writers who are contributing to the project. This week that's Andrew Mackay.
Andrew used to write screen plays, but has since embraced the world of Indie publishing where he has more control over what becomes of his work and less of the aggravation that production companies so often bring. Like a lot of Indie authors his focus is more on story and less on genre. Whether he's writing science fiction or horror, thrillers or romances, the common element is the resonance of human emotion. He's found that regardless of the trappings, telling a story that is compelling and can connect at an emotional level is what writing a successful novel is all about.

LMS: Welcome, Andrew. Please share your most memorable meal.
AM: The most memorable meal I've ever had (and I've had a few!) would be the one I and three of my colleagues had back in 2003.
I lived in London, UK, at the time, and SKY (the corporation) took me, my girlfriend at the time, and my good friend Lloyd Kaufman (of indy movie studio Troma Entertainment) to Claridge's in Mayfair to celebrate my selling of a package of Troma movies to their subsidiary TV channel, BRAVO.
For those who don't know, Claridge's head chef and owner, at least back then, was Gordon Ramsey. This was before he was a TV star, and right around the time a little movie, written by my late, dear friend Larry Cohen, called Phonebooth was hitting the movie theaters.
The three SKY employees who treated us to dinner were publicists themselves, and one of them was reeling from having seen Phonebooth – a film about a publicist trapped in a phone booth with a sniper threatening to kill him.
I remember at the time marveling at how so many strands of my life and friendships all came crashing together.
The three publicists each had what they referred to as a "Murdoch Card" – that is to say, dinner was on Rupert Murdoch, and we could have whatever we wanted in as much frequency as possible.
Needless to say, the food was out of this world. I can't even remember what I had, but the experience is what has stayed with me, particularly the dessert, which was some sort of banana boat with very, very, very thin slices of caramelized fruit running through the middle. It was a true work of art, and a big shame to have eaten.
The waiters on hand in this grand and lavish room within one of the more expensive hotels were ready to pounce if you needed anything. I remember putting a cigarette in my mouth (you could smoke indoors, back then!) and a hand with a lighter just appeared out of nowhere and lit the end.
The lunch started at around 12:30 in the afternoon, and finished at about 5pm. LOTS of wine, in the main, and before long, most of us were absolutely f**ked to the point where we couldn't remember why we were there.
I remember asking one of the SKY publicists why this had lasted such a long time, and he told me he was killing time because he had to meet another client at the bar at 7pm, and continue the merriment. Oh, to have had their job.
My girlfriend and I finally struggled out of the hotel, and went home with the female publicist.
And I think I'll stop the story, here.
I think it goes without saying that very few meals have lived up to this experience. I'm a big believer in learning and getting to know how industries operate. I was only 24 at the time, but it really opened my eyes to just how exorbitant and indulgent the lives of those way further up the food chain — in all respects — actually live. A complete and utter wanton disregard for money, and debauchery.
And I'd do it again in a heartbeat because I'm a hungry hypocrite.

Thanks, Andrew. Being wined and dined by entertainment executives with unlimited expense accounts is an experience that every writer should have at least once. Not just for the opportunity to bask in raw excess, but also as something to haunt them forever: a time and place that exists in memory but will likely never be experienced again. You can get a lot of good fiction out of that kind thing.
Next Monday: Another author and another meal!

NB: links to authors and books here are included as part of an Amazon Affiliate account. If you follow any of them and ultimately make a purchase Amazon rewards me with a few pennies of every dollar.
Want to never miss an installment of EATING AUTHORS?
Click this link and sign up for a weekly email to bring you here as soon as they post.
Tags: Eating Authors