The deadline for getting your federal tax return was back on April 15th, though as we are living in pandemic times that was bumped a month to May 15th. The same courtesy did not necessarily extend to state tax returns, each state apparently having the option to extend more time or not (hint: PA did not).
I mention this because I've been spending the last few days finally pulling my papers together and double-checking spreadsheets. 2020 was a tumultuous year for such things, owing in large part to my medical adventures. But yesterday I finished my number crunching and sent the whole thing off to my accountant. That leads to the next stage of the quest, as I wait to hear back with her anguished complaints about how the stuff I sent doesn't make sense in various spots. Twas ever thus.
It was shortly after I emailed my accountant, my brain still buzzing, that I realized I'd been so consume by tax work that I hadn't prepped this week's EATING AUTHORS post. There was not a moment to lose! Except, I needed to clear my head a bit, so my wife and I took the dog for a short walk in the afternoon air. It helped, and now here I am, a bit later on that same Sunday afternoon, to tell you about Genevieve Iseult Eldredge.
I haven't seen Genevieve in years, which isn't saying much because I haven't seen anyone in almost two years. But there was a time when our orbits were similar on the convention circuit. Arisia, Ravencon, Lunacon (I'm less sure of that last one). It's a nice problem to have, attending so many conventions that the panels and the parties all start to blur. I'd like to have that problem again. Maybe next year.
Genevieve describes her Circuit Fae series as "angsty lesbian urban fantasy YA." and herself as a demisexual sword lesbian martial artist, an intersectional feminist, and a radical empathizer. I really hope she has all that on a business card. I can't think of anyone I'd rather attend a high tea with at the Seelie Court.

LMS: Welcome, Genevieve. Please talk to me about your most memorable meal.
GIE: My wife and I sometimes lovingly refer to Prague as the Land of Meat and Beer because I must've consumed my weight in both when we stayed there a few years ago.
One of the things I remember most about Prague (aside from its sheer beauty) was the food — street vendors selling chocolate-dipped trdelník, grilled sausages, deep-fried cheeses. Most restaurants served house beers called simply "light" or "dark." They were all delicious.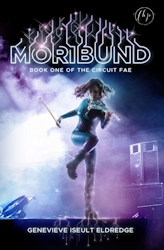 But of all the meals I had in Prague, there was one that stood out.
It wasn't just a feast for the body but for the mind and spirit too.
We were staying in Old Town, a very lovely and historic area with sweeping medieval architecture and cobblestone streets. Everywhere you look, there are breathtaking sights to behold: the Charles Bridge in all its statuesque glory, St. Vitus Cathedral with its heavy, dark architecture.
At night, Old Town Square comes to life with lively crowds, fire spinners, musicians, people gathering, talking, and eating. Everyone just out, enjoying life.
I remember the intoxicating energy of those crowds. You're in a place with all these strangers, but you're connected by the music, the food, the experience, all against the backdrop of a beautiful medieval city (and the Astronomical Clock).
On our last night in Old Town, we went to a small outdoor restaurant on the edge of that crowd.
We started with champagne and a variety of deep-fried, savory cheeses, and then a main course of goulash and dumplings (and of course, beer). The beef was so tender you could cut it with your spoon, and the gravy was the perfect savoriness and mopped up perfectly with the dumplings.
The servers kept bringing us beer, and we kept obligingly drinking it.
We sat outdoors and ate and drank and people-watched as the sun set and night came down on the Square. For me — a super introvert who loves being in a crowd but not the center of the crowd — the night was pure heaven.
In pandemic times, I think of this meal and this night a lot and the amazing energy of it.

Thanks, Genevieve, that sounds like a truly magical meal, all the more so because it probably happens night after night after night. And you had me at "deep-fried, savory cheeses."
Next Monday: Another author and another meal!

NB: links to authors and books here are included as part of an Amazon Affiliate account. If you follow any of them and ultimately make a purchase Amazon rewards me with a few pennies of every dollar.
Want to never miss an installment of EATING AUTHORS?
Click this link and sign up for a weekly email to bring you here as soon as they post.
Tags: Eating Authors