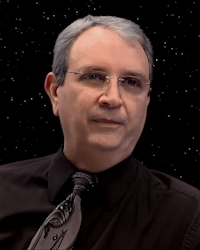 Yesterday was a delightful spring day and today is promising more of the same. I anticipate finishing the rough draft of a novel by noon and then moving on to the polishing stage over the next several days before being able to send it to my Typo Team. It's a day for relaxing in the afternoon upon my hammock with my faithful dog snoozing at my side. And it's a perfect day to bring you a great treat for this week's EATING AUTHORS guest, a novelist and screenwriter whose work I have enjoyed for as long as I've known about science fiction. I refer, of course, to David Gerrold, who in addition to taking home the Hugo and Nebula award for "The Martian Child," is known far and wide for his contribution of tribbles (or as we say in Klingon, yIH) to Star Trek, and the Sleestak to Land of the Lost.
But David's contribution to the field is far more than these bits of popular culture. He is responsible for some truly incredible SF series including The War Against the Chtorr, Star Wolf, and The Dingilliad. He's written more than a dozen standalone novels (a quick shout out for my personal favorite, The Man Who Folded Himself) and short collections, edited several anthologies, and don't get me started on his nonfiction works including multiple volumes of an insider's view of the sausage-making of Star Trek.
A few year's back, David was the GoH at a convention in northern California, and I'd managed to convince the concom to bring me in as a special "Language GoH." I mention this because I had the privilege of hanging out with David for several hours. He was kind and welcoming and generous. I like to think I played it cool and managed to avoid going all fanboy in his presence, though I probably did note that he and I had graduated from the same university in the San Fernando Valley.
David still lives in the Valley, and nowadays the focus of much of his delight is a beautiful grandson. Fortunately, the child has to sleep sometime and I like to think it was one during one of these naps that David sent me this meal.

LMS: Welcome, David. When I asked you to share your most memorable meal, you shorted among several before arriving on this perfect choice. I'm delighted to have you sharing it now.
DG: Sean moved in with me when he was only a few months past his eighth birthday. Because he'd been moved around so much as a foster child, he was uncertain about this placement. As happy as he was to finally have a dad, it was hard for him to believe this was real and permanent.
But that changed quickly. By the time he was approaching his eleventh birthday, he had turned into a bright and enthusiastic boy, with a very playful attitude — and a deliberately impish streak.
Early in the summer, we had a visitor from New York. I'll call him Ron. He was auditioning to be a more permanent part of our lives, so we had him come over for a spaghetti dinner. As I set out the plates, Sean asked if he could demonstrate his special way of eating spaghetti. I said, "Yes," and proceeded to set up the video camera, because I knew what was coming.
I started the camera and said, "Action." Sean buried himself face first into a plate of spaghetti and growled his way through it like a hungry puppy. He laughed. I laughed. Ron did not laugh. He wasn't prepared for that level of outrageous silliness. He was appalled in that way that only a very proper New Yorker can be. He got up and left.
That was the night that Sean and I realized that Ron didn't get slapstick comedy. He didn't get silliness. And without that level of stooge-ness, he couldn't be a closer part of our lives. Later on, he did find a partner better suited for him and we wished him happiness. Sean hasn't gone plate-diving since then, but spaghetti night is still a silly adventure.
A few years from now, I will be showing that video to Sean's son. I expect him to laugh like crazy — and imitate his dad.

Thanks, David. What glorious joy! As far as family traditions go, I hope this one will endure for many generations.
Next Monday: Another author and another meal!

NB: links to authors and books here are included as part of an Amazon Affiliate account. If you follow any of them and ultimately make a purchase Amazon rewards me with a few pennies of every dollar.
Want to never miss an installment of EATING AUTHORS?
Click this link and sign up for a weekly email to bring you here as soon as they post.
Tags: Eating Authors