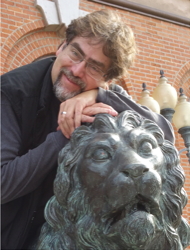 How very odd to see my own name above this paragraph. After four years of asking other authors about their most memorable meals, it seems appropriate to take a turn myself. So, following the style of past posts, let me formally state that this week's EATING AUTHORS guest is me, Lawrence M. Schoen, author, small press publisher, research psychologist, hypnotherapist, and Klingonist. You know, same as everyone else.
The occasion for being my own guest hinges on tomorrow's release of Barsk: The Elephants' Graveyard from Tor Books. The fact that you're reading this blog at all probably implies that you already know all about me, so I'll keep this introduction short.
Most of what I'm known for among my previous science fiction is the light and humorous adventures of a space-faring stage hypnotist and his alien animal companion. The new book, Barsk, takes a very different tone, exploring issues of prophecy, intolerance, friendship, conspiracy, and loyalty, and redefines the continua between life and death.