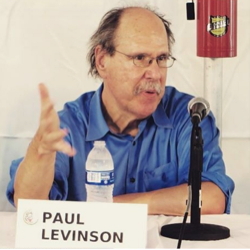 There's a hectic week ahead. I'll be driving out to Pittsburgh for the annual Nebula Conference and spending all day on Thursday in a meeting of the SFWA Board making authorial sausage. Please believe me when I tell you it's not as glamorous as it sounds (and it doesn't sound glamorous). But it provides a good segue for this week's EATING AUTHORS because Paul Levinson is a past president of SFWA.
He's also a classic example of an author who has split his time between academia and fiction, often blurring the line between them. After earning his doctorate back in 1979, Paul bounced around a bit and taught at half a dozen colleges and universities before settling down at Fordham University in New York, where's he's been a professor of communications and media studies since 1998.
Both his novels and his nonfiction (a full shelfload of each) explore concepts and themes not just of communications media, but also space exploration, technology, and philosophy. His work has been nominated multiple times for the Hugo, the Nebula, the Sturgeon, and still other awards, while The Silk Code brought him a Locus Award for Best First Novel.
But my favorite thing about Paul's fiction can be found in his book The Plot to Save Socrates, a time travel novel that opens with a character in the future reading an unknown Socratic dialogue in which the philosopher is given the chance to escape his own death and flee to the future. How could you not love that?