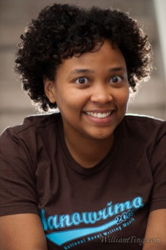 I'm catching my breath, having just returned home from two weeks of travel that included both the Worldcon in Finland and side trips to Iceland (both before and after) as well as a visit to Sweden that included some research. I think I have three or four competing sets of jetlag — and my sleep cycle is a mess at the best of times.
But it was a great trip, and if I didn't get to see a few dozen folks I'd intended to I ended up meeting a lot of new faces and that always brings new and exciting possibilities. Travel, after all, is broadening. This is true in both the expanding your mind sense as well as the expanding your waistline interpretation (and my wife found us some incredible restaurants for the trip).
All of which is my official segue into this week's EATING AUTHORS guest, because Nicky Drayden's most memorable meal is rooted in travel, and of course eating.
Nicky's first novel, The Prey of Gods, came out two months ago from the folks at Harper Voyager. It's got robots, an ancient demigoddess, drugs that tap your inner animal, young love, and so much more. It's a debut novel that will make you sit up and take notice and ask, "hey, when's her next novel coming out?"