The Science Fiction and Fantasy Writers of America has released the list of finalists for this year's Nebula Awards. It's an especially powerful ballot, bearing a stellar list of incredible work and talented authors.
Congratulations to all of the nominees! I hope you'll all be able to attend this year's conference in southern California. All evidence suggests that the Events Team has outdone themselves and we are in for the very best conference yet.

I'll confess, part of my delight at this year's list of finalists stems from seeing my own name listed as a nominee for Best Novelette for "The Rule of Three." I am exceedingly proud of this piece. I believe it's the best thing I've ever written at less than novel length, and it shows the maturation of my abilities as an author over the years.
This is my sixth Nebula nomination in seven years, and my first for novelette. The competition is particular fierce, and as always, win or lose, it really is an honor to find my work listed among such incredible writers.
But I didn't get there by myself, and I wanted to take a moment to acknowledge and express my gratitude to the people who's efforts contributed to my nomination.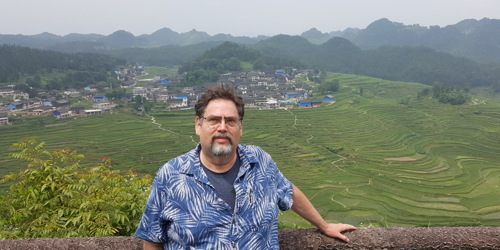 I wrote "The Rule of Three" in response to a visit to Guizhou, China. I was part of the first Danzhai workshop sponsored by the Future Affairs Administration and the Wanda Group. My experiences there will live forever in my memory, as will the incredible conversations I had with Derek Künsken, Kelly Robson, Alyx Dellamonica, Lucia Liu, Bo Jiang, Lucia Liu, Bao Shu, and especially Vera Sun, and FAA co-founder Ji Shaoting, all of which contributed to the shaping of the novelette.
Alex Shvartsman, longtime friend, convention roommate, and editor of Future Science Fiction Digest bought the story and featured it as the premiere piece in the first issue of the online magazine. His backing and belief in the novelette, basically launching the magazine with it, means more to me than I can properly express, and his continuous championing of it has been wonderful. He's also responsible for catching a glitch in which my software (not me, I tell you, it was the software) deleted one scene and duplicated another in the manuscript. Good catch, Alex!
Elektra Hammond was my copyeditor on this novelette and she's great. Really, it's that simple. She's come to know my voice from her work on other projects of mine (most notably both books in my Barsk series) and I believe that makes a huge difference. Thank you, Elektra.
Wulf Moon produced the podcast version of the novelette, doubtless providing greater saturation and allowing the work to reach more people than the print version could. He asked all the right questions and his results were excellent. Thanks, Wulf.
And finally, 脱团猫 (aka Isaac), has been handling the translation of "The Rule of Three" into Chinese. Like Alex, he also caught the twin problems of a duplicated and missing scene (and thankfully, I had the fix in hand about a day before he did so I could send it to him). His comments have been insightful and helped shaped the final manuscript before Alex published it, and will surely yield a great translation when the novelette is released in China later this year.
So, yes, my name appears on the novelette and the nomination list, but it wasn't just me. If anyone reading this ever has the opportunity to work with any of the people I've listed and thanked here, know that you are in good hands and you've involved yourself with people of incredible talent and skill.
And again, congratulations and good luck to all the nominees!
Lawrence