May has brought better weather and increased stamina. These have combined to allow me to take longer walks (up to a mile now) which in turn has created opportunities for self-hypnosis as well as quality time with my dog. The healing continues. Life is good.
May also brings the first of what I hope will be several of this year's Astounding Award finalists to this blog. Of the six nominees, Sam Hawke and Jenn Lyons have previously shared meals. I'm still hoping to hear from R.F. Kuang, Tasha Suri, and Emily Tesh. Meanwhile, this week's EATING AUTHORS guest is Nibedita Sen.
Nibedita is no stranger to food, ranking its importance with anime in her life. She writes short fiction, as well as co-edits Glittership, a queer, SF/F fiction podcast. All in all, she's having a pretty good year, racking up not just the Astounding nomination, but Nebula and Hugo noms as well.

LMS: Welcome, Nibedita. What's your most memorable meal?
NS: As a lover of food, and immigrant from a culture where food is key to identity and affection — and also as a writer who works food into pretty much everything she writes — it's very hard to choose a favorite meal from all the good ones I've had! Here's a pretty special one, though.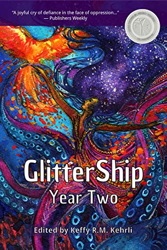 I moved to the USA for grad school in 2015. This meant going from Calcutta to the Midwest, so the culture shock was, as you can imagine, quite extreme — particularly when it came to food. Or flavoring. Or the lack thereof. I'd also never lived away from home before, and never really had to cook for myself, since my mother and grandmother were both excellent cooks who handled keeping the household fed. Stuck in a tiny college town in Southern Illinois, I learned real fast to appreciate how a dish could be a culinary jewelry box of memory and identity. The first time I made shorshe chingri — prawns in mustard-seed paste — I cried at the smell, and then breathed it in too deep, which made the mustard sting my eyes and sinuses, which only made me cry more.
When I next got to visit home in the summer of 2016, I'd been away for a year, during which I'd sorely missed both my family and the food I grew up with. My mother, anticipating this, had prepared a spread of several traditional Bengali delicacies that she knew were my favourites. Two in particular. Kosha mangsho, which is goat meat cooked to fall-off-the-bone tenderness in rich, dark, oily gravy. And ilish macch bhaja, thin fillets of hilsa fish fried crisply in mustard oil and green chilis, along with their eggs and internal organs, the latter of which are cooked down to a blackened consistency bursting with umami bitterness. Both dishes were served over hot, plain white rice with salt on the side. I like to write about food, but I don't think I can do justice to that meal, save to say that it tasted of love — and of home, and of memory, and my city, and my people.

Thanks, Nibedita. I am reminded that scientists working on teleportation are going about it all wrong. The ability of food to transport us home should be the first line of research. Even if it's only a one-way trip, it will always be delicious.
Next Monday: Another author and another meal!

NB: links to authors and books here are included as part of an Amazon Affiliate account. If you follow any of them and ultimately make a purchase Amazon rewards me with a few pennies of every dollar.
Want to never miss an installment of EATING AUTHORS?
Click this link and sign up for a weekly email to bring you here as soon as they post.
Tags: Eating Authors