2013 is going to be the year of ebook publishing for me (it may be other things too, but that's how I'm starting out).
On January 1st, I put up six short stories as $1.00 ebooks on both Amazon and Barnes & Noble. They cleared through processing some time over night and they're all now available.
Here are the six covers: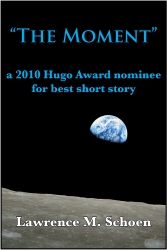 Clicking on any of the cover images above will take you to the appropriate page at Amazon.

For the rest of the world (including me) that uses the ePub format to read on their phones or tablets, here are the respective links over at Barnes & Noble:
"The Sky's The Limit" || "Pidgin" || "Mars Needs Baby Seals"
"The Game of Leaf and Smile" || "The Moment" || "Bidding the Walrus"

I don't know what, if anything, will come of this. I've been wanting to get more of my work out there in ebook form, and I'm of the school of thought that says if you just give it away for free people will assume it's crap. That said, I will probably set up some kind of rotation in which some one of these will be free for a week or two, at any given point in time.
And, I'd be lying if I didn't admit that making the covers was kind of fun, and a great way to decompress from the stresses of the past week.
Tags: ebooks, Fiction, Paper Golem, Publishing