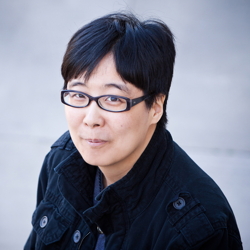 As I write this, it's been more than two weeks since I've had either diet cola or fried chicken. This may not seem especially noteworthy to you, but as I typically consumed about a gallon of soda a day, and ate fried chicken at least five days out of every week, it's pretty huge. I miss both a bit, but I don't crave them. Go figure. Instead I've been eating more vegetables, fish, and shellfish. All of these changes have been making me look more closely at upcoming EATING AUTHORS installments, including this week's guest, Yoon Ha Lee's meal, and asking myself "hey, can I even eat that now?"
Speaking of Yoon, you should recall his name from his many incredible short stories, which have garnered him multiple nominations for the Sturgeon award, the Locus award, and the WSFA Small Press award. More recently, his first novel Ninefox Gambit — the first volume of his Machineries of Empire series — has been nominated for the Nebula.
There's an intelligence to his writing, a sense of order that likely either reflects his background in mathematics — he has a Masters in secondary mathematics education from Stanford — or goes back even further and stems from the same source that led him to pursue a mathematics degree at Cornell.
Yoon Ha Lee and I have never met, but I'm hoping to correct that in May during the Nebula Conference, preferably over a fine meal. I hope he likes seafood.

LMS: Welcome, Yoon. Please tell me about the best meal you've ever had.
YHL: The best meal I remember having wasn't for any particular special occasion. This was maybe two and a half decades ago when I was a teenager living in Seoul with my family. One day my dad decided to take me and my sister and our mom all to a restaurant he'd found or used to frequent, I forget which. It was located downtown near one of the universities, tiny little hole in the wall place, nothing to look at, a little dingy even. But oh, the food.
There was only one thing on the menu at that restaurant, and yet the restaurant was packed full. And the thing on the menu was mandu–dumplings, specifically boiled dumplings, filled with some kind of pork mixture.
Once we sat down to eat I understood why the place was full. They were the best, most delicious dumplings I had ever eaten (sorry, Mom! My mom's are second-best), with shells thinner than paper, delicate, absolutely incredible. Even today I still remember the shock of how good those dumplings were.
Unfortunately, I can't tell you what became of that restaurant — my sister and my dad went back to look for it years later, and it wasn't there anymore, nor did anyone in the neighborhood know what had become of it. I hope they're not gone and they just moved somewhere else and are still serving amazing dumplings, even if I am unlikely to be able to track them down.

Thanks, Yoon. I wish you recalled the name of the place. I'd add it to my growing list of incredible yet vanished restaurants. There's a story there, I'm sure of it.
Next Monday: Another author and another meal!
Tags: Eating Authors