This week's guest here at EATING AUTHORS is Yasmine Galenorn, a self-described shamanic witch, as well as a best-selling author. You probably know her for either of her two urban fantasy series, Otherworld (currently at fifteen books, with at least three more scheduled, and the latest volume, Crimson Veil comes out tomorrow) and Indigo Court (currently at four volumes, with the fifth book scheduled for later this year). According to her bio on Amazon, Otherworld is soon to generate a spinoff, a new urban fantasy series called Fly By Night.
Yasmine has also authored two mystery series, Chintz 'n China and Bath & Body, the latter under the pen name of India Ink. But let's end this introduction where we began, and point out that she's also written nonfiction—eight titles in the realm of metaphysics.

LMS: Welcome, Yasmine. Your new book comes out tomorrow, but for today, let's talk about your most memorable meal.
YG: Honestly, given my history with food allergies, this is a tricky question. There are so many things I cannot eat, and so many restaurants I can't eat in, that most of my memorable meals are now prepared at home, by me.
So I'm going to focus on some of the restaurant foods I've had over the years, whose memories stuck with me even though I can no longer touch them.
One of my favorites, which I haven't been able to eat in years but that I remember fondly, was the Olive Garden's Zuppa Toscana. I would go to the restaurant and that's all I would order—they had an 'endless refill' and I would just eat soup. No salad, no breadsticks, nothing… just the soup. There was something about the slightly spicy but creamy potato-like soup that satisfied me in a way not much else could. I tried for years to recreate that soup but could never quite manage it.
Another favorite used to be Ivar's fish and chips. Yes, they are a chain here in the Northwest, but their fish and chips and clam chowder were one of my favorite fast food meals—the fish was crispy on the outside, and moist inside. And while I didn't bother with the fries, the clam chowder was rich and thick and smooth.
Oddly, one of the most memorable foods I had was when I was a little girl, and not in a good way. We would go to a buffet restaurant every now and then. I remember there was this bizarre salad made of Jell-o, whipped cream, coconut, and maraschino cherries. Well, for some reason, every time we went there, I decided I had to have this salad. And every single time, I would taste it and grimace—I couldn't stand the stuff. But it was pretty, so I think in my child's view of the world, somehow I always believed it would taste as good as it looked! ~grins~ I was sadly disappointed.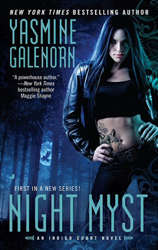 Now, my most memorable meals out at restaurants are memorable because of the people I'm with. I always end up ordering the same thing—steak and seafood without any seasonings, unseasoned vegetables… but the company makes the meal for me. And some of those meals have been the most wonderful, even if the food has been slightly boring.
My dinner with my agent—the first time we met face-to-face after working together for eight years… well, that was wonderful. And I'll never forget sitting there, talking, discovering she was as delightful in person as she was via email/over the phone, and being so grateful that she'd taken me on as a client because not only did she do a great job, but she was/is a wonderful person.

Thanks, Yasmine. It's been far too long since I've been to the Pacific Northwest, but you've resurrected the ghosts of Ivar's lunches in my head. Ahhhh.
Next Monday: Another author and another meal!
Tags: Eating Authors