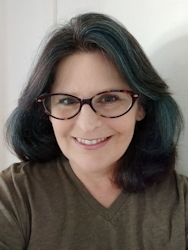 It's been a good week with such highlights as my lowest ever Kappa/Lambda ratio — down to 2.94 from the insane, yeah-you've-got-cancer score of 1,607.26 of eighteen months ago (normal range is 0.26 to 1.65, so I'm still high) — as well as the news that Soup of the Moment had been nominated for the Cóyotl Award for Best Novella of 2020.
I've also been spending time reflecting on that phrase of Zen wisdom: "Before enlightenment, chop wood, carry water. After enlightenment, chop wood, carry water." In the midst of all of the turmoil in the world — separate from my own special pile — I've been finding it very helpful to just breathe and do the things I know to do, day in and day out, because being who I am is enough.
And now with that brief slip into philosophy behind us, let's get back to EATING AUTHORS. This week's guest is Xina Marie Uhl, a fellow member of the International Association of Science Fiction & Fantasy Authors (IASFA.org), an organization dedicated to the development of SFF authors through shared opportunities, camaraderie, and targeted philanthropy (among other things). Or more pragmatically, they're the folks who bring you the monthly batch of free books from their members (you can sign up here).
Like so many of us, Xina occupies that space that exists between longing to be a world traveler and surrounding herself with ever more dogs and cats (and maybe a few other critters), a balance that is maintained by the realities of being a freelance writer for assorted educational projects. Her fiction covers a wide range, everything from romance, fantasy, historical fiction, westerns, and humor. And don't get me started on her cat book.

LMS: Welcome, Xina. What stands out for you as your most memorable meal?
XMU: My favorite meal of all time took place about 18 years ago, on the dry and dusty plains of central Turkey. My husband, daughter, and I were on a vacation of a lifetime, from experiencing Istanbul's colorful markets and winding old streets, to sailing the vivid blue sea and marble cliffs of the Sea of Marmara. Being an ancient history aficionado (read: nut), I was keen to visit Turkey ever since I heard that it contained more Greek ruins than Greece itself. I was especially keen to see the archaeological dig of Çatalhöyük, one of the largest and most significant early human settlements in the world.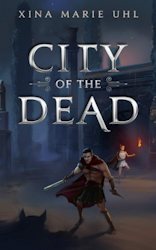 We drove through farmland and empty long roads, and my daughter – about 13 years old at the time – complained that she was hungry. We were certain we would run across a market or restaurant on the way to the site, but we just kept getting further and further from civilization. At last we came to the site, a great dig covered by temporary shades, and sporting a small museum. We had expected there to be a number of other visitors, and a full staff, but when we went to the door, we found it locked.
A caretaker came rushing up to us and promised to open the site as soon as the afternoon meal was complete – and would we join him? Thinking of my daughter, I said, "Yes!" even though my husband, who tends to be less outgoing than I am, looked uncomfortable with the idea. The caretaker led us to an outdoor fire with several other men, and a delicious smelling rack of chicken. Fresh, organic – and probably killed that morning. We sat around the fire and feasted on heavenly, barbequed chicken, seasoned with a little salt and pepper. The scene, the company, and the mouth-wateringly good meal, made a wonderful impression on all of us.
Once we finished, the caretaker, true to his word, opened the museum and the dig for us and we toured it by ourselves, enjoying the ancient earthen homes, some of which included terracotta burial vessels of children (so that the deceased would be forever in the home), and trying to decipher the ancient red pictographs. A highlight of my life!

Thanks, Xina. As tempting as it is to give in to my inner punster and riff on the irony of going all the way to Turkey to eat chicken, I'm not going to do that. Nope, not me, I'm above such things. But I might muse about the likelihood of your trip taking place over Thanksgiving.
Next Monday: Another author and another meal!

NB: links to authors and books here are included as part of an Amazon Affiliate account. If you follow any of them and ultimately make a purchase Amazon rewards me with a few pennies of every dollar.
Want to never miss an installment of EATING AUTHORS?
Click this link and sign up for a weekly email to bring you here as soon as they post.
Tags: Eating Authors