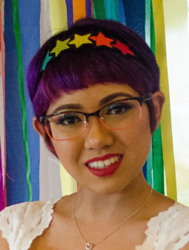 Here in the USA, the deadline for filing one's federal taxes has come and gone. Lots of stress this year in my household as we shifted over to a new form of record keeping and experienced more than our share of delays and distractions. On the other hand, less stressful than most years, as the critical date got bumped to the 17th, whereas two days before, April 15th, marked the 18th anniversary of my father's passing. Yeah, death and taxes, he'd have found that really funny.
On a less somber or macabre note, today's EATING AUTHORS features another of the nominees for this year's John W. Campbell Award for Best New Writer, Vina Jie-Min Prasad. She's a Singaporean writer who describes herself as "working against the world-machine" (which I think surely means she probably knows where they keep it) and in addition to being up for the Campbell, her short story, "Fandom for Robots" has also garnered her Nebula, Sturgeon, and Hugo nominations this year. But wait, there's more: Her novelette, "A Series of Steaks" is also nominated for the same three awards. That's right, she's up for seven different awards this year (well, six, because the Sturgeon only has the one category). Anyway, go read her!

LMS: Welcome, Vina. What meal stands out in your memory?
VP: One of the best meals I've ever had was in Vietnam. I was travelling with my partner on a very ambitious itinerary that we had planned earlier that year, and we got to our homestay in Dong Hoi after spending most of the day at the limestone caves. There are two things I remember very clearly about that part of the trip. The first was that there was a shallow fishpond on the first floor–some of the fish in it had outgrown the pond, and were carefully swimming sideways so they didn't splash out.
The second was the noodles.
For a little more context, the homestay was pretty far from any restaurant. Our previous itinerary-planning selves had assumed we'd be able to go into town and grab some dinner. However, our previous itinerary-planning selves were possessed by what I call the Vacation Demon. The Vacation Demon, in case you aren't familiar with it, does things like make you pack your swimsuit when you aren't going anywhere near a body of water because "there might be a pool somewhere", pack extra shoes for a weekend trip "just in case the sole falls off", and plan five separate things for one afternoon because "they're so near to each other, and I'm sure we'll have energy, we're on vacation".
Anyway. Reluctant to forsake the Vacation Demon's itinerary and dash the hopes and dreams of our past selves, we were at the point of the trip where we were hauling our shambling carcasses from place to place while secretly hoping our past selves had left a gap in their meticulous plans so we could get some rest. As the itinerary didn't say anything about dinner that night, all our determination spontaneously evaporated the moment we took off our shoes.
At some point of rolling around trying to motivate ourselves to get dinner, I remembered that the homestay had advertised breakfast in the listing, and went to check if we could pay extra and get some kind of meal, even if it was just bread. The host was pretty accommodating, and she offered us the choice of toast and scrambled eggs, or noodles. I picked noodles as it seemed like the most filling option.
A few minutes later, we were served two steaming-hot plates of instant noodles–they were boiled and drained, dry-style, with bits of eggs and finely-chopped spring onion greens on top.
The taste was an experience. The noodles were perfectly cooked, al dente with that hint of give, and were tossed so that just the right amount of sauce coated every strand. Hints of white pepper deepened the noodles' soy-scented fragrance, and the clouds and wisps of scrambled eggs added to the richness. The occasional bit of spring onion added a pop of freshness every few bites.
I looked at my partner. He looked at me.
"Is it just me, or–"
"No. These noodles are godly."
We got second helpings, just to check if hunger had skewed our judgement. They were still incredible. We complimented the chef multiple times, and had more noodles for breakfast the next morning. (Still good.)
It's been years since my Vietnam trip. I've had many great meals since then, but I'll never forget those noodles–how sheer skill and technique elevated a basic-seeming meal into something truly amazing.

Thanks, Vina. I'm well acquainted with the Vacation Demon. With its help I've amassed a lifetime worth of museums, parks, and restaurants I'll likely never visit. Sigh.
Next Monday: Another author and another meal!
Want to never miss an installment of EATING AUTHORS?
Click this link and sign up for a weekly email to bring you here as soon as they post.
Tags: Eating Authors