I don't know about you, but I've a pretty full day today. It begins with an early morning visit to my cancer center for a blood draw and some chemo — because who doesn't like starting the week with a belly injection? Then I have a plane to catch for Las Vegas where I'll be spending the week attending the 20Books conference, an intense event that focuses on indie author life, self-publishing, and the business of selling books. I'm looking forward to seeing some old friends there, and meeting up with new people whom I've only known online or in the pages of shared anthologies.
And in the way suggested by segues since the dawn of time, one of those new people just so happens to be this week's EATING AUTHORS guest, Terry Mixon. He writes Military SF, doubtless drawing on his experience from having served in the 101st Airborne Division and later working in the Mission Control Center at the NASA Johnson Space Center.
Like a lot of indie authors, Terry doesn't just write novels, he writes series, or as he prefers to call them, "sagas." If you're not already familiar with his work, check out his Humanity Unlimited saga, as well as his Empire of Bones saga (currently at ten books!).
Other than that, all I know about Terry is he has cats and lives in Texas. I'll try to learn a bit more over the next few days. Maybe we'll even have time to share a meal, though as you'll shortly read, he sets a pretty high bar.

LMS: Welcome, Terry. Before we both head off to Las Vegas, tell me about your most memorable meal.
TM: I'm not much of a gourmet. Honestly, I'm a picky eater that despises vegetables and just doesn't have much interest in food beyond the boring basics, prepared the way I like them. I'm the proverbial meat and potatoes man. So, it probably won't come as a surprise to anyone that knows me that my favorite meals (two of them) have nothing at all to do with the food served at them, but rather the company sharing it with me.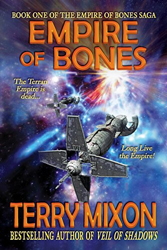 Earlier this year, I attended a three-day gathering of writers in Napa, California to talk shop and let our hair down. We had a couple of fancy meals together as a group, one catered and the other at an upscale restaurant.
The foods served were beyond the pale of my plebian tastes. I'm sure they were excellent, but I couldn't even tell you what the dishes were. Heck, I don't really remember caring as I was eating them. I was too engrossed with the tablemates that I had corralled by deftly stalking them as they were sitting down.
The first meal was with a writer that I absolutely adore: David Weber (and his lovely wife Sharon). I honestly want to be him when I grow up, and I can hardly hazard a guess at how many times his work has inspired and entertained me.
I sat directly beside him for hours, listening to him talk about his creations and other anecdotes that delighted me as a writer and storyteller. He was a raconteur without equal and held me spellbound the entire time. I doubt I said more than a dozen sentences all told, which would shock all my friends.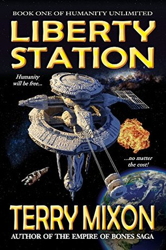 The meal ended far too soon, even though we stayed until they kicked us out, and even then, I stood in the hallway and listened to him regale a few of us for a few hours more. I only left when exhaustion dragged me to my bed.
The other meal was with the incredibly prolific and talented Kevin J. Anderson and his wife Rebecca Moesta, who is also a writer. I sat across from them in a fancy restaurant talking business and any number of other topics. Basically, wherever the conversation led us. I think I managed to actually hold up my end of the talking this time. It was great fun.
Those two meals eclipse any others that I've had before or since. For me, moments like those are far more satisfying than some transient bits of food that are easily forgotten. Those conversations had a lasting impact on me that I'll treasure for the rest of my life. Now, isn't that what a great meal is all about?

Thanks, Terry. And yes, it's conversations like these that can take any meal and elevate it to greatness. Personally though, I kind of like the food portion too (though again, we're in total agreement about the vegetables).
Next Monday: Another author and another meal!

NB: links to authors and books here are included as part of an Amazon Affiliate account. If you follow any of them and ultimately make a purchase Amazon rewards me with a few pennies of every dollar.
Want to never miss an installment of EATING AUTHORS?
Click this link and sign up for a weekly email to bring you here as soon as they post.
Tags: Eating Authors