Welcome to the last week of the year. That span between holidays when no one wants to be at work, little gets done, and everyone is just getting by as best they can as the year breathes its last breath.
Tomorrow the trade paperback edition or Barsk comes out, two days ahead of the anniversary of the hardcover debut. And you have until the 29th to enter to win a free copy, if you're into such things.
But now please turn your attention to Teresa Frohock, the 51st and last EATING AUTHOR guest of 2016. Teresa writes dark fantasy and horror and is probably best known for her book Los Nefilim, a collection of three related novellas set in 1930s Spain that plays with the conflict between angels, daimons, and the beings caught in the middle (and I don't mean us regular mortal folk). If you haven't yet sampled her work, I don't know what more you need to know to convince you to give it a try.

LMS: Welcome, Teresa. Tell me about your most memorable meal.
TF: Many years ago, I had the privilege to be in the service of a volunteer organization, which held a week of meetings in New York City. On the way to my first set of meetings, I developed a horrible cold, which turned into bronchitis. Thanks to the my husband, I managed to get through a stressful week. On our last evening in New York City, we walked around the block, looking for a place to eat.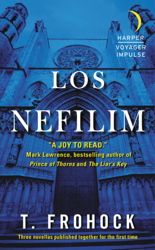 Mind you, I was still horribly sick and physically miserable. It was a chilly April that year, and I remember it was drizzling. We had already once walked by an Italian restaurant. On the second pass, the owner happened to be standing beside the door as we paused to read the chalkboard menu beneath the awning. The owner took one look at me, and in spite of my plague, he ushered us both inside.
I think he was a magician, because from the moment we entered his restaurant until we left, I don't remember being sick.
The theaters were in full swing, so the restaurant was almost deserted. We ordered seafood fra diavolo, and the owner and my husband treated me like a queen. I recall the fra diavolo sauce was the finest I've ever tasted and the seafood cooked to perfection.
But it was the owner who captivated me. As he worked at the bar, he sang. The lyrics were Italian, and the melody was sweet and sad made moreso by the beauty of his voice. Although he sang for himself and not for us, I could have listened to him all night.
All the while the rain outside turned the streets into mirrors. Pedestrians hurried by without surrendering to that small oasis of warmth, and I was glad, because I wanted it all to myself and my husband for just that one night. We had cheesecake that melted in our mouths and coffee dark and black. Then it was time to go, and the owner saw us to the door, solicitous to the end.
Even though I had the occasion to return to New York City several times after that, I never saw the owner at the restaurant again. I think it was because he was a magician, and he had other souls to tend.

Thanks, Teresa. You're not the first person to tell me of magical restaurants or restaurant owners. Surely they have a club, I think, or perhaps a secret society. Hmm. There's a novel idea there…
Next Monday: Another author and another meal!
Tags: Eating Authors