Hello, and welcome. You're just in time for another round of asking authors about their favorite meals. This weekly feature was inspired by my protagonist, the Amazing Conroy, who in addition to being a stage hypnotist is also very much a foodie.
Sitting at the table with us today is Ted Kosmatka who's first novel, The Games, comes out tomorrow. You probably already know him from his short fiction which has appeared in all the top magazines, as well as being reprinted and translated into Chinese, Czech, Hebrew, Polish, Romanian, and Russian, not to mention landing in several "Year's Best" anthologies. He's also been nominated for the Nebula Award. So, whatever other plans you have for tomorrow, I suggest you add picking up a copy of his debut novel.

LMS: So tell me, Ted, what's your best, most memorable meal?
TK: That's an easy one. About 8 years ago, I went fishing out on Lake Michigan with fellow writer and buddy of mine Michael Poore.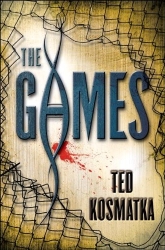 The boat took us way out on the lake, past the point where you could see land, so it was only blue water all around. In addition to getting wonderfully sunburned and working up a good appetite, we caught a salmon apiece over the course of the day. We cleaned the fish back at the dock in East Chicago then drove to Mike's house, cooked the fish in a pan of butter, and popped a jug of red wine (I'm not sure the name of the wine, but it comes in these gallon bottles like industrial sulfuric acid). Then we put Jaws in the VCR and got nicely drunk while eating fish that had been swimming just a few hours earlier. Jaws is best watched under these circumstances, I've found. I'm not sure if it was the freshness of the fish, or the fact that we'd caught it ourselves, or that fact that we were drunk, and sunburned and trading impressions of "they had black eyes, like a doll's eyes," but that meal was the best tasting meal I can remember.

Thanks, Ted. Next time I eat salmon in Chicago (hey, maybe this summer for the Worldcon?) I'm going to be thinking "we need a bigger boat!"
Next Monday: Another author and another meal!
Tags: Eating Authors