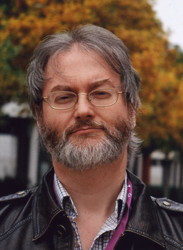 For the past couple of Mondays, we've featured some debut novelists. This week we visit the other end of the spectrum and cross the pond to meet up with the U.K.'s indefatigable Simon R. Green. Here at EATING AUTHORS we have a special rock, and if you aren't familiar with Simon's work it's because you've been hiding under that rock; which means you owe us back rent, but we'll call it even if you instead go out and read some of his stuff.
The really curious thing about Simon is that his many series (Twilight of the Empire, Deathstalker, Hawk and Fisher, Forest Kingdom, Secret History, Nightside, Ghostfinders, share the same universes, or what might better be described as multiple versions of the same realities. Characters cross from one to the other, making a rich tapestry that you just don't get with most authors.
In January, Simon announced that he'd just signed a contract for three more books in his Secret History series, the first of which, From a Drood to A Kill, is due out in early June. And then there's the new Ghostfinders novel, Forces from Beyond, set for the end of August. So, yeah, if you hadn't caught on yet, the man is more than a little prolific.
His latest, released just over a month ago, is Tales from the Nightside, but you probably already knew that and have long since devoured it

LMS: Welcome, Simon. Let's cut right to it: what stands out in your memory, meal-wise?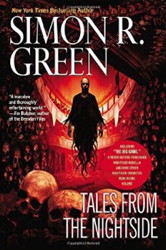 SRG: My favorite meal; back in the day, there used to be a restaurant on Paddington Railway Station in London, where you could order chilli con carne, bacon, sausages, baked beans and chips. And they would just pile it up on your plate until you cried "Hold, enough! No more!" I used to call it The Cholesterol Special. I could feel my arteries hardening with every bite. It was… magnificent. They also offered a Death By Chocolate dessert, which involved three kinds of ice cream (white, milk and dark), with chocolate chips and chocolate sauce. I used to order it just so I could enjoy watching overweight people hating me. The restaurant is long gone now, demolished in Paddington's last regeneration, and I do miss it. Like a woman you just knew was bad for you, but could always put a smile on your face.

Thanks, Simon. I have a soft spot for meals of restaurants past, and I can easily imagine being haunted by this particular repast.
Next Monday: Another author and another meal!
Tags: Eating Authors