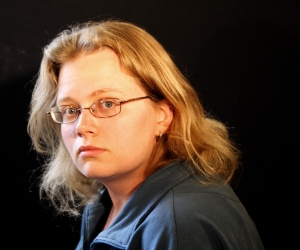 I first began this weekly blog feature in June of 2011. Since then, every summer I've set aside space here for the nominees of the Campbell Award for Best New Writer — or at least for any of them that choose to participate. Having been nominated myself I have a soft spot for the award, and yes, the 2013 nominees will start showing up here next month. But I mention it now because this week's guest won the award in 2010.
I'm speaking of course about Seanan McGuire (as well as her alter-ego, Mira Grant). What can I tell you about her that you don't already know? The woman is everywhere these days! In addition to her Campbell Award, she's been nominated for a Shirley Jackson Award and won five Pegasus Awards for her work as a filker. Prior to this year she'd been nominated for four Hugo Awards (not counting winning the Hugo for Best Fancast in its debut year), and this year she's nominated five times across four categories (yes, she's in competition with herself!) on the Hugo ballot.
Many readers know Seanan for her October Daye series (including the novels Rosemary and Rue, A Local Habitation, An Artificial Night, Late Eclipses, One Salt Sea, Ashes of Honor, as well as Chimes at Midnight, The Winter Long, A Red Rose Chain, and Once Broken Faith currently scheduled for publication in September of 2013, 2014, 2015, and 2016, respectively), and that's only the novels, there are also shorter works in the same series. If that's not enough for you, there's also her InCryptid series (two novels published so far — Discount Armageddon and Midnight Blue-light — with three more slated), and under the name Mira Grant there's her popular Newsflesh series (Feed, Deadline, and Blackout), as well as Parasite, the first book in her new Parasitology trilogy, coming in November. And please note: the first of these books appeared in September of 2009; this is one busy writer!
Fortunately for this blog, even the busiest of writers need to take time out to eat.

LMS: Welcome, Seanan. First, congratulations on the many Hugo noms; I look forward to seeing a fleet of rocketship pins on your badge in San Antonio. Now, let's get down to the important stuff — what's your most memorable meal?
SM: I am a very simple person when it comes to food: I like things that aren't overly complicated, where every ingredient is absolutely vital. I'm one of the only people I know who goes to England for the cuisine (British cooking delights me). So a lot of my happy food memories involve hole-in-the-wall diners, local favorites, and places that are willing to give me a steak the size of my head. I am also a very simple person when it comes to Disney. Disney Parks are my personal version of heaven–and the food is surprisingly good!
Earlier this year, for my birthday, I managed to score reservations to Club 33, the top-secret, members-only five-star restaurant located in the Disneyland Park. This was A Big Deal. The restaurant is hidden in the New Orleans Square area, and just getting inside involves jumping through hoops and knowing the password, and I was over the moon with excitement. I took my best friend, Vixy, because what's the fun of really fine dining when you do it alone?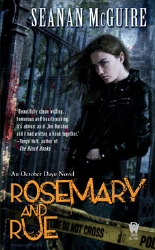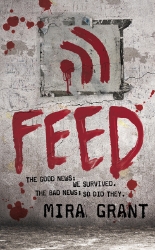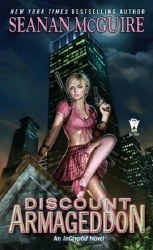 I won't go into the club itself: there are pictures and walk-throughs on the Internet, you don't need me describing the molding. But the food…oh my sweet Great Pumpkin, the food. A cold bar with entire lobster tails, as well as fiddly little things that Vixy assured me were quite good. Lamb chops in a bed of red cabbage and mushroom, with bacon, and piped mashed potato. And a full dessert bar covered in tiny versions of wonderful treats. Since it was my birthday, I got a custom chocolate mousse shaped like Mickey Mouse, and Mickey himself came around to see us while we ate–yeah, it's five-star character dining. Because we could.
For me, a memorable meal is usually a combination of "good food" and "beautiful memory." And on that scale alone, Club 33 was the most memorable meal I have ever experienced.

Thanks, Seanan. Now, what's it going to take to learn how one scores reservations to Club 33? Personalized Klingon lessons? Your very own plush buffalito? Huh? Huh?
Next Monday: Another author and another meal!
Tags: Eating Authors