All around me I see people freaking out as a part of their responsible efforts to self-isolate as they do their part to slow the spread of covid-19. As a professional extrovert, I can relate. Even though I have a very nice office here at home, historically I almost never used it. For the last few years I'd awaken around 6am, tend to my ablutions, and then drive off to park my butt at a McDonald's and write for hours.
I knew back in mid-January that a consequence of my BMT was going to be several months of seclusion as my immune system grew back and stabilized. It wasn't easy, but I made my peace with the knowledge there would be no restaurants, no travel, no congregating with friends. So for me, the requirements imposed by society in response to the Corona virus are old news; I'd already been doing them well before the WHO called it a pandemic. And yes, I also had long since stocked up on food, TP, and hand sanitizer.
Which is no kind of segue at all (just an update) to this week's EATING AUTHORS guest, Roby James. Roby says she's been writing since she was nine years old and she's been busy. She written for television. She's written nonfiction. She's written blends of fantasy, romance, and historical. She's written science fiction. She's written for the Washington Post. She's done desktop publishing, technical writing, and also taught fiction writing. By my count, she has ten books out, including her two volume Starfire Saga (see the covers below) and her three volume Warrior Wisewoman anthology series (Warrior Wisewoman, Warrior Wisewoman 2, and Warrior Wisewoman 3).
Roby's most recent novel is Maelstrom , a Regency Romance.

LMS: Welcome, Roby. In these days when so many of us are staying home, we really need to read accounts of memorable meals. What's yours?
RJ: There used to be a Moroccan restaurant in Los Angeles called Dharma Greb, and Keith and I ate there on special occasions both before and after we were married. It was one of those fancy places with a fountain in the tiled forecourt and belly dancers entertaining the diners. We loved it, and the food we liked best was the b'stiilla, which Feast Magazine called: "a spiced, savory and slightly sweet meat pie, layered with exotic flavors, encased in tender phyllo and baked to golden, buttery perfection."
For some reason, Keith decided he wanted to make it at home.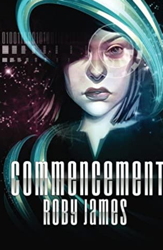 Keith took over the cooking early in our marriage, after the third time I caused a fire in the kitchen, once by trying to boil water. I was awed by his determination to tackle something as fancy, even though he had proved himself to be a good and adventurous cook. Then we saw the recipe, and we were both taken aback. It had 25 ingredients, one of which was "10 eggs." And since we noticed that the recipe ended with the words "Serves 12," we picked a date and invited friends to dinner. No pressure.
We began to assemble the ingredients, both those Keith used often (chicken, eggs, butter) and those he'd never used before (dark rum, golden raisins, phyllo dough). I was intimidated, but then I wasn't the one who was going to be responsible for the final product. He bought a spring-form pan, a piece of cookware I'd never even heard of, and I swallowed my impulse to call the friends we'd invited to tell them they were going to be the recipients of an experiment and to please be kind to my husband, no matter what.
We were planning dinner for 6:00 pm, but Keith said we should start cooking really early to make sure we were done in time. We started preparing the first step in the recipe at 10:00 am. Dinner was a half-hour late.
Keith barely sat down in any of that time. Usually, even when cooking something elaborate, there are moments when ingredients are on the stove or in the oven and the cook gets to take a bit of a break (or has plenty of sous-chefs, while Keith was stuck doing it all himself because I was the next thing to useless). With the absorbing enterprise of b'stilla, we discovered that the key – previously unnoticed – word in the recipe was "meanwhile." It occurred over and over again, every time one thing was bubbling along, there was another thing to do. Before 2:00 in the afternoon, we discovered that the true meaning of "meanwhile" was "keep going!"
I helped with the phyllo dough, brushing on melted butter, but that and greeting our friends were my contributions to the evening.
The b'stilla was exquisite, better than it had been at Dharma Greb. But what I remember most about that meal was not the taste of the food – it was how proud I was of Keith for his ambition and his talent and the generosity with which he shared that wonderful dish with our friends.

Thanks, Roby. It's been said by many that hunger is the best sauce, but anyone who has put in the time and effort to prepare something like b'stilla knows that it's the sweat of the cook's brow that's responsible for that special savor.
Next Monday: Another author and another meal!

NB: links to authors and books here are included as part of an Amazon Affiliate account. If you follow any of them and ultimately make a purchase Amazon rewards me with a few pennies of every dollar.
Want to never miss an installment of EATING AUTHORS?
Click this link and sign up for a weekly email to bring you here as soon as they post.
Tags: Eating Authors