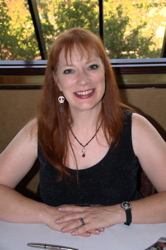 Just a couple months ago I was in Dallas for a convention and I found myself on a panel with this week's EATING AUTHORS guest, Rhonda Eudaly, a longtime author with Selina Rosen's Yard Dog Press, one of the first small presses I ever encountered back in the day. Rhonda was fun and witty and eloquent, and after the panel I asked her if she'd come share a meal with the readers.
Before she does so, I should give you a little background. Although she's branched out into novel writing with last summer's Tarbox Station, you're more apt to recognize her name from her long list of short fiction sales that have spanned an array of markets and anthologies, as well as several compilations. Perhaps most significantly though, she's one of the The Four Redheads of the Apocalypse, and nothing I add could ever top that.

LMS: Welcome, Rhonda. Please tell me about your most memorable meal.
RE: I grew up with only one food-related rule. I had to try everything at least once. If I didn't like it, that was okay, I didn't have to finish it, but I had to at least attempt to eat it. I had to try. But that means I've had many memorable meals in a variety of cuisines under many intriguing circumstances. Picking one has been challenging. But if I had to pick one meal based on food alone and not necessarily the company, it would have to be a family holiday gathering in Floresville, TX (South of San Antonio) with my husband's extended family.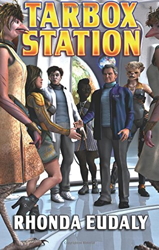 What made the meal memorable was that it was an Exotic (not endangered!) Meat party. This was so much more than beef, chicken, and pork – this was basically Mammal, Bird, and Fish. Venison was a given, as was dove – this family has ties in the hunting community, but there were also tidbits like bison and oryx. And sometimes you just have to say… what the heck. And let me tell you one thing, only chicken tastes like chicken.
There were trays and trays of I can't remember how many kinds of meat they had at that party; it was rather like a Brazilian steakhouse but without the gauchos and meat on swords. The array was dizzying – all I remember is so much meat! Completely dizzying. Then there was sides and desserts and wow. Some of it wasn't to my taste, because exotic is an acquired taste, but most of it was astonishingly good.
But what makes most of the meals I find memorable are the people involved. The family we visited have the most adorable daughters. And one of the extended family relatives? I listened to several of his stories. He's a pilot who knew Greg "Pappy" Boyington. As a Robert Conrad and Black Sheep Squadron fan, I totally ate that up. The fact that we traveled a full day just to go to dinner was part of the Grand Adventure.
I want to thank my mom for the "Try Everything Once" rule. Not only has it led me to be able to enjoy something like an Exotic Meat Party, but also let me expand that into other parts of my life – like writing. I can take some chances I might not otherwise with style or genre or interpretive dance because you've got to at least try. If it doesn't work, I don't have to do that again, but sometimes you find out you actually have a taste for goat. And that opens up all new worlds.

Thanks, Rhonda. It sounds like a whirlwind meal indeed, one that's left me with visions of a young Robert Conrad eating oryx while performing interpretive dance. You know, as one does.
Next Monday: Another author and another meal!
Tags: Eating Authors