Hello and welcome to another Monday morning visit with an author and her most memorable meal. Our guest today is Rebecca Roland, whose first novel, Shards of History, has just debuted from World Weaver Press.
Rebecca admits to having addictions to both chocolate and coffee, at least one of which must surely be a requirement if one wishes to be a successful writer. Of course it probably doesn't hurt that she's an alumna of the Odyssey Writing Workshop either. By day she's a physical therapist in New Mexico (when she's not eating chocolate or slamming down the java).

LMS: Rebecca, thanks for coming by, and congratulations on your first novel. Now, let's get down to it: What's your most memorable meal?
RR: I'd have to say one of the most memorable meals I ever had wasn't a meal, per say, but more of a day spent grazing my way through Pike Place Market in Seattle.
I grew up on the Gulf Coast, and my father was a shrimper. I ate seafood all the time. All. The. Time. And I never grew tired of it. Do you remember that scene from Forrest Gump where Bubba talks about all the ways you can prepare shrimp? I've had them all, and then some.
But now I live in the middle of a desert. It's beautiful and I love it here, and yes, the food is good, but I miss fresh seafood. So a few years ago when my husband and I went to Seattle, I planned on making up for it. Also, I'm a coffee freak, and Seattle is apparently known for coffee. So my goal for that trip was to eat so much seafood that I'd be in danger of sprouting fins and scales and to drink as much coffee as possible.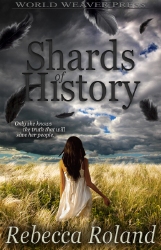 Pike Place is a feast for the senses. It offers one of my favorite activities, people watching. There are plenty of tourists, but also one and two-person bands playing music and hoping to make a few dollars doing what they enjoy. The air is filled with the smells of fresh seafood, bread, bakery sweets, spices, grilled meat and vegetables as well as hundreds of voices chatting and offering samples and answering questions.
I started out the morning with an omelet filled with salmon and capers, and coffee, of course. The eggs were light and fluffy, the salmon lightly smoked, and the capers added just a sharp, little bite. The coffee was so strong I almost expected it to slap me a couple of times to help me wake up. It was perfect. I wasn't sure if the day (or the food) could get much better, but it did!
Later that day we sampled a little bit of everything at the market. I ate Rainier cherries. They were sweet and juicy and perfectly ripe. I even tried some that were chocolate covered. They made every other chocolate covered fruit I've ever had pale in comparison. I sampled Beecher's cheeses. The cheese was slightly nutty and robust but not overpowering. Then I had some of their macaroni and cheese. The pasta was the perfect device to carry the creamy, warm, gooey cheese. I do believe I heard angels singing. We bought a wedge of cheese for later, which we had with some red wine, cherries, and some fresh bread we picked up from one of the vendors. That meal was simple but fresh and absolutely delicious.
After all that walking and sampling, I was feeling a postprandial coma coming on, so I had a pick-me-up cup of coffee. It kept me jittery enough to walk through the market and eventually back to the car, and when it finally wore off, I slept the contented sleep of the truly satisfied.

Thanks, Rebecca. That sounds like the perfect day (except for the coffee part — I don't do coffee, but that just means there's more for you).
Next Monday: A special WorldCon author and another meal!
Tags: Eating Authors