If everything has gone as planned, then this morning I should be waking up in Pennsylvania, after having spent four nights in Quebec. But seriously, when do things go as planned? Which is why I prepped this week's EATING AUTHORS before I skipped town, so you wouldn't miss out on reading about Rebecca Roanhorse, our second guest this year who (along with Katherine Arden, Sarah Kuhn, Jeannette Ng, Vina Jie-Min Prasad, and Rivers Solomon) was recently nominated for the John W. Campbell Award for Best New Writer.
I'd be remiss not to mention that in addition to being on this year's ballot for the Campbell, Rebecca is also on both the Hugo and Nebula Awards ballots for her short story "Welcome to your Authentic Indian Experience™."
She's also a Yale grad, a lawyer, and a pug owner (the last of which resonates with me because my dog is half pug, so yeah, that's all it takes to bias me). Her first novel, Trail of Lightning, comes out from Saga at the end of June, with the next one in the series already slated for release the following spring. Then there's the new book, an Aansazi-inspired fantasy that we'll get to see sometime in 2020. So yeah, she's been busy.

LMS: Welcome, Rebecca. Tell me about your most memorable meal.
RR: It was a chilly March afternoon on the Navajo reservation in Northern Arizona, and an In-law Chaser, a quick heavy snowstorm that doesn't stick but has enough force to usually scare the uninitiated off the warmer indoor accommodations, had just raced through our tiny camp. A thin blanket of snow coated the ground around us, and we huddled in our coats, hats and scarves, waiting for the sun to return.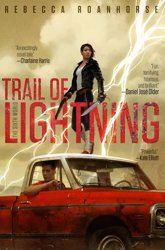 We were all there for my niece's Kinaldaa. A Kinaldaa is a Navajo puberty ceremony for young girls that welcomes them into adulthood. It is a momentous occasion that brings family and friends together to offer advice, ceremony, and company. It is held in a traditional Navajo home, called a hogan, but all the cooking and prep work is done outside.
Despite the blast of winter, the open fire in the middle of the camp still crackled merrily, burning through the pinon wood and smelling like the Southwest version of heaven. The cowboy coffee (strong coffee where the grounds are dumped directly into the stovetop-style pot and placed over the open fire) was bubbling and ready for drinking. My husband had just finished butchering the sheep that would go into the fresh mutton stew that was to be our dinner. I was chopping the stew vegetables – carrots, celery and potatoes – and another relative was busy mixing the dough for our frybread. It was the quintessential Navajo comfort meal – mutton stew, frybread and coffee – made with our own hands and eaten outside among friends and family. It was the best meal I've ever had, hands down. Well, there was that one gourmet 5-course meal in Paris once that is a close second, but even that can't beat outdoor dining around an open fire in the snow.

Thanks, Rebecca. Is it wrong that a part of me wants some Parisian chef to wrangle an invitation to a Kinaldaa so they can be inspired to produce a fusion dish? Yeah, probably. Sorry (not sorry).
Next Monday: Another author and another meal!
Want to never miss an installment of EATING AUTHORS?
Click this link and sign up for a weekly email to bring you here as soon as they post.
Tags: Eating Authors