It's a crazy month. Last week marked the relaunch of my AMAZING CONROY series, with the story that started it all, "Buffalo Dogs," being posted as a free download. Then I went away to Indiana to gather with forty-plus Klingon speakers (and the creator of the language gave us, among many other new terms, the word for "novel!") for five days of yammering in an alien tongue. Also my dog turned 10 (since I was away on his birthday I'll be celebrating with him today). And there was something about a 50 year anniversary of a moon landing over the weekend too.
Today, the new collection, Buffalito Bundle goes live on Amazon. I have an appointment with my physician to discuss, among other things, what can be done about my bad knee. Oh, and on Saturday I turn 60.
But none of that matters to you and your insatiable appetite for new writers sharing their most memorable meals. Which is all the segue I have time for to introduce you to this week's EATING AUTHORS guest, Quincy J. Allen (no relation, that I'm aware of, to convicted serial killer Quincy Jovan Allen). What first caught my attention about Quincy was a two sentence quote that appears on one of his social media pages: "I have a mohawk. Your argument is invalid." Hard to argue with that.
Quincy describes himself as a cross-genre author, having done media tie-in work, hard SF, and epic fantasy steampunk. He's a writer who writes. He also edits and publishes short story anthologies, does book design, and marketing. Clearly, there is power in the mohawk.

LMS: Welcome, Quincy. What meal stands out in your memory as the most special?
QJA: I'm an accomplished foodie, with appetites for just about every kind of cuisine there is. I'm also an accomplished cook, and that's not just me saying it. I've had folks rave about my burrito casserole, raviagna, ox tail stew, goat vindaloo, and even BBQ ribs. I also make one of the best sausage Bologneses you've ever had. I do Asian, Indian, Cajun, Italian, Hispanic, and a few others, mixing and matching ingredients and spices as I go along. I've also dined in restaurants from the bottom of the barrel to five-star, and love most of it. It's where I get much of my inspiration when I'm in the kitchen.
But a special meal? Experienced or prepared? That was a hard question. And the more I thought about it, the more I came back to what can only be called a regular event I have at home.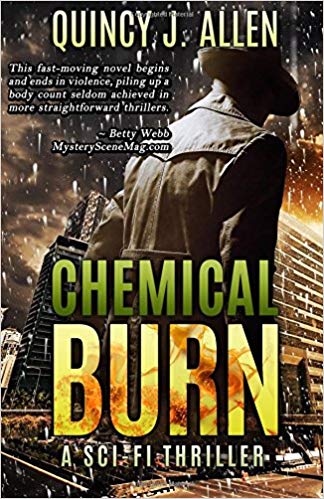 You see, the lady in my life—we're set to be married in October—is also both a foodie and a cook of considerable talent. She brings to the table southern cooking, Cuban, Fusion, and is a master of finding amazing meals on Pinterest. She's an experimentalist who likes to try the next recipe that she's never tried before. Between the two of us, there's little we won't tackle, and so far, we've been pretty successful, if I do say so myself.
The truth is, there isn't really a single meal that stands out in my memory. What stands out for me is what happens whenever the mood stirs us, in our own kitchen, and we get to work our magic together. We're motorcyclists, and we like to travel. We putter around the house, and we walk our dog. But above it all, probably one of our favorite things is when we have the opportunity to spend an evening or afternoon or entire day in the kitchen.
It doesn't matter if we're cooking for just the two of us or for a large group of friends we're having over for dinner. It doesn't matter if it's a quick meal or something elaborate that takes a couple of days to prepare and then consume.
For us, it's all about that special time we get to spend together preparing a meal.
Over the past two years—since I moved in with her—it's become one of the best ways we spend special time together. It all starts with talking about what we want to prepare, and then there's the trip to the grocery store—often on our motorcycles. She had a big Can Am with a ton of storage, so we can haul home quite a bit. Once we get everything home, we turn on Pandora, put on comfortable clothes, and get to work.
Our favorite jams are either Steely Dan or something with a Latin beat. I don't recall if the music has ever matched the meal, although now that I think about it, I'm going to start tracking that. When the music begins to fill the house, something special happens. We disconnect from the rest of the world, and it's just the two of us working together in a sublime act of creation.
Our kitchen isn't large, and although she is rather petite, I fill a space like a dump truck. I'm usually likened more to an ogre than anything else. To make things worse, when I get moving in one direction, I'm a lot like the X-Men's Juggernaut. And yet, there's always room for the two of us. It doesn't matter what we're cooking or who gets what job. Sometimes I'm at the stove and she's prepping. And sometimes I get the knife work and she's making her magic with the burners. It turns into a dance of sorts, where we slide past each other, grabbing a hug or a kiss or even the occasional pat on the backside while we work. And as we get into it, the universe disappears. Suddenly, it's just the two of us, moving together like Fred Astaire and Ginger Rogers, but with pots and knives and flaming burners.
We test each others work along the way, tasting a sauce—I'm a pretty fair saucier—or gravy, appetizer, side, or entrée. There are always plenty of "yummy" sounds and suggestions about adding a bit of spice or vinegar or juice. We make jokes and laugh and sing, full to the brim with the delights of the moment. And as we work, we achieve a sort of synergy, where two creative minds come together and produce (usually) something pretty amazing.
And the fun, the sheer delight, doesn't end there. When everything is done and we've plated up the meal—whether it's a complex, five-course endeavor or just a bowl of stir-fry—we then get to sit down together and sample our handiwork.
I suppose what I'm saying is that the food, while it is the foundation upon which this experience is built, is almost ancillary to delights we derive from the sum total of the endeavor. Preparing the meal, regardless of what it is, takes a back seat to sharing the time together in an act of creation. Make of that whatever you'd like, but there is something inherently beautiful in those special times the two of us get to cook together.
For us, it's a mini-vacation, or an adventure, or perhaps even just a date, but no matter what you want to call it, from the quick and simple to the laborious and extravagant, it's the whole experience of preparing virtually any meal that we find sublime.
Our "special meal" is every meal we prepare together, and I wouldn't have it any other way.

Thanks, Quincy. Sounds like culinary synergy to me (did I just make up that phrase?). Next time, capture it all on film. Your readers want to see the magic!
Next Monday: Another author and another meal!
Want to never miss an installment of EATING AUTHORS?
Click this link and sign up for a weekly email to bring you here as soon as they post.
Tags: Eating Authors