Ah, June. The month has always felt like a bit of a tease, thirty days when you think you have plenty of time to do whatever, but you blink and suddenly you're out of time.
I have the feeling this is going to be a volatile month for me. Lots of changes and new possibilities are on the horizon. Ask me about them when we hit July, and maybe I'll know how it worked out. Or not.
Speaking of changes and new possibilities, this week's EATING AUTHORS guest, Peng Shepherd, has her first book coming out tomorrow. Peng is a recent arrival in Philadelphia. We met on Twitter prior to her move, and as I have a soft spot for new and local authors, naturally I invited her to drop in and share her thoughts on a meal.
Peng was actually born in Phoenix, but she's lived in L.A., Beijing, London, New York, and D.C. She has an M.F.A. in creative writing and won the Elizabeth George Foundation's emerging writers grant.
If you're in the area, you can also catch her live on June 12th at Galactic Philadelphia, where she'll be reading.

LMS: Welcome, Peng. So, what's your most memorable meal?
PS: My most memorable meal is the tiny bowl of macaroni I ate with my brother Zach in Tunis, Tunisia in January 2008—a simple lunch that turned into an almost supernatural quest.
We arrived in Tunis at night, and stumbled groggily out of our hostel into the roar and bustle of the medina early the next morning, hoping to find breakfast. Just down the road, a chef leaned out of his café and waved, smiling. He spoke no English, and none of the languages we speak are French or Arabic, so he didn't spend much time explaining his menu. He simply plopped us down at a table, returned with two bowls of steaming hot macaroni and stewed lamb, and disappeared again.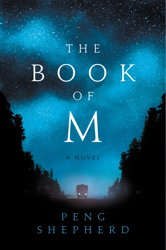 Now, I know macaroni is nothing special. And lamb is also not exactly rare. So I understand what I'm about to say next sounds a little hyperbolic, but I kid you not: it was the best thing I've ever tasted. In my life.
Describing the ingredients will not do the meal justice. Yes, the noodles were firm yet chewy, the lamb rich and tender and falling from the bone the minute my spoon touched it, the harissa perfectly tempered to give a fiery kick but not overwhelm. But it was so much more than that. It was so delicious it was like sorcery. We devoured our servings as if starving to death, then mopped up the scraps with our baguettes, then licked the bowls until they gleamed. I felt possessed. The chef was so pleased he couldn't stop laughing when he returned. Food-drunk, I kept murmuring "merci, merci," prayer-like, as we drifted back out into the crisp sun.
A few hours later, after the cloud of our food coma had cleared, I turned to my brother as we browsed Souk En-Nhas' glittering aisles and said, "I know we're supposed to try new places, but I just want that macaroni again for dinner."
"Me too," he admitted eagerly.
It was settled. Except we couldn't find the café again once we returned to our hostel.
We hadn't thought to check the name or address on our first visit, so we couldn't ask for directions to it. And we learned that half the cafés in the medina served some type of macaroni dish, so describing what we'd eaten to other shopkeepers wasn't useful. All we had to go on were two photographs on my digital camera I'd taken while there: one that showed some of the café itself, and one of the macaroni. We used the one that showed the café as a guide: a yellow awning with red Arabic writing, green doors, and chili pepper tablecloths.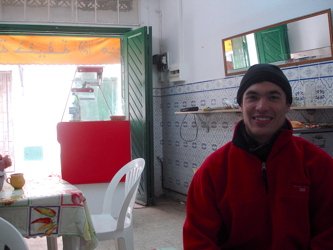 Seven hours later, with the medina emptying for the evening and shops pulling down their rolling metal doors, we gave up—hungry, but not defeated. The center of Tunis' medina is large and winding, but not impossibly so, we thought. We'd already walked the entirety of it several times over in those seven hours. Surely if we just kept circling, we'd find the macaroni again.
We repeated our mission every day for the next week.
With each failure, the hunt became more eerie. The first day, we had easily found the café just minutes after leaving our hostel, so it had to be within walking distance and on a main road, but the place was nowhere to be found, no matter how hard we looked. Three days in, I started showing every shopkeeper and passerby our picture of the café, sure one would recognize it. Most shook their heads, and some tried to point out places that seemed like a good match, but they were all dead ends. The café had completely vanished, as if it had never been there at all.
The experience reminds me a little of the world of my novel, The Book of M, which is all about memories, and a magic that changes reality itself as the characters begin to forget. Zach and I started to think that maybe we'd dreamed the whole thing up—that there was actually no such café, that we'd not actually eaten any macaroni. But my camera argued otherwise, the evidence trapped in its preview pane. Each night, we stared at the two images again, still hopelessly macaroni-less, and starting to question our sanity. The café had to be real. Didn't it?
A few days later, we took a train to Carthage and Sidi Bou Said, and then another train deep into the desert, where we visited Gabes, Matmata, and the beautiful, austere Tamezret, but the macaroni still haunted us. We circled back to Tunis to continue our search.
On the last afternoon of our trip, hours before we had to check out of our hostel and head for the airport, we were combing a street we'd already walked at least twenty times, and knew by heart. Vendors shook their heads and chuckled. They'd seen us every day by then, and knew about our hopeless quest.
Then impossibly, right in front of us, all of a sudden there it was. The yellow awning, the green doors. Inside, the same chef was whistling happily behind the counter.
"Macaroni!" We cried in unison as we ran. It was here! It was real! We were giddy with victory. "Macaroni! Macaroni!"
"Demain," the chef shrugged, smiling.
"Macaroni!" We cried again.
"Demain," he repeated, but we didn't understand. Finally, he held up one finger. "Aujourd'hui," he said, pointing at the ground, indicating something like "now" or "here". "Demain," he continued, looping his hand through the air and pointing to the side, like how one might indicate an animal somersaulting over a fence. "Aujourd'hui," pointing down—"demain," somersaulting over. It finally clicked that "aujourd'hui" meant "today."
I froze.
If "aujourd'hui" meant "today," then that could only mean that "demain" meant "tomorrow."
We stared at the chef in horror. Zach might have sunk to his knees. At last, I pointed to myself, made the shape of a plane taking off with my hands, and added "aujourd'hui." The chef looked stricken as well then, but there was nothing he could do. He didn't have the ingredients, perhaps. There was no macaroni. The quest was over.
Once we returned home, I tried to make the dish myself, but it was never close to the same. I went to as many Middle Eastern and North African grocery stores as I could find to try different brands of ingredients, googled recipe variations, posted on forums, and even recorded evaluations of my attempts to keep track of what I'd tried and what I'd do differently next time. After several months of exhaustive experimentation, I finally gave up.
I haven't been back to Tunisia since that trip, but I think about that macaroni at least once a month, without fail. It seems crazy—it was just pasta, tomato, harissa, and some lamb. I still don't understand how it could be as delicious as it was, or how I could never recreate it, or how it was possible for the café to have vanished into thin air after our first taste, and reappeared only to say goodbye. Sometimes, it seems more like a dream than something that truly happened.
But like in my novel, as long as you remember it, then it's real.

Thanks, Peng. This blog is full of accounts of such Brigadoon-like eateries. I'm still haunted by one in New Orleans I took three students to. But hey, at least you got to say goodbye to yours.
Next Monday: Another author and another meal!
em>Want to never miss an installment of EATING AUTHORS?
Click this link and sign up for a weekly email to bring you here as soon as they post.
photo credit: Rachel Crittenden
#SFWApro
Tags: Eating Authors