I am home from the hospital and easing into what will probably be at least three months of convalescence. I expect to be very frustrated by this as I have so much to do but the fog of chemobrain is, thus far, greatly limiting how much I can manage. At a minimum though, I should be able to post these weekly EATING AUTHOR features, and as proof here's this week's guest, Nicole Grotepas.
Nicole is another of the incredible Indie authors I met in Las Vegas last November. She describes her writing as coming from an uncommon starting point: surveillance, and how it affects not merely human behavior, but classic SF themes such as colonization, AI, and robots. In particular, the books in her series A Holly Drake Job are a charming blend steampunk and space opera. The fifth book, Birth of the Colossus, comes out on the 27th.

LMS: Welcome, Nicole. What stands out as your most memorable meal?
NG: The problem is that I love food–so it's incredibly hard to choose!
But, what seems to stick with me the most ferociously are the meals that were made by someone I know, in their home.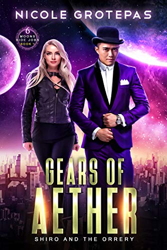 So, basically, a meal that I've never been able to forget was this super casual affair in my cousin's kitchen. His wife, who was from Mexico, prepared what she called traditional enchiladas.
My husband was there, though we had just started dating when this happened. Veronica prepared each enchilada individually. I don't know that everything was made fresh, but I think it was — fresh pico de Gallo from ingredients grown in her garden. Or maybe in her window sill — something romantic like that (I romanticize everything, especially memories of amazing meals).
The startling thing for me was that the enchiladas were filled with potatoes (I realize now that this isn't that crazy, but at that time for me, it was). She cooked each one in a small cast iron skillet, topped them with pico de Gallo, and some type of freshly grated white Mexican cheese, and then placed each finished enchilada on our plates.
It was very informal, and all of it was done as we stood around the stove talking to her as she cooked them. Stoker chatted in Spanish with her and she told us all about her process and where her family was from in Mexico. I had known Veronica for many years and had learned how to make salsa verde using her family recipe, but that might have been only the first or second time Stoker met Veronica.
Ever since then, I've been on the lookout for enchiladas made with potatoes. But I've never run into them or Veronica's process for cooking them, which maybe isn't that crazy. One reason I think it became even more singular and prized to me was because it blew my mind and further illustrated to me how important family recipes are in perpetuating family culture, as well as our social culture. When Stoker and I ended up getting married, Veronica gave us a cast iron skillet just like the one she cooked the enchiladas in.

Thanks, Nicole. I confess, I'm still trying to wrap my head around potatoes in enchiladas. It's like the kind of evidence you note when you've stumbled into a parallel world that's identical to your own except for one thing. Potatoes.
Next Monday: Another author and another meal!

NB: links to authors and books here are included as part of an Amazon Affiliate account. If you follow any of them and ultimately make a purchase Amazon rewards me with a few pennies of every dollar.
Want to never miss an installment of EATING AUTHORS?
Click this link and sign up for a weekly email to bring you here as soon as they post.
Tags: Eating Authors