Welcome back to another Monday session of Eating Authors, the blog segment that tempts your tummy even as it appeals to your need to read… or something like that. Our guest today is author and editor Nick Mamatas who in just a few days will be showing up as a GoH at Capclave, a convention that I plan on attending as well.
Nick's edited several anthologies, both on his own and accompanied by such folk as Jay Lake and Ellen Datlow. He also put in two years as the editor at the online magazine Clarkesworld (full disclosure: I submitted to that magazine during his tenure there. Nick did not buy my story).
Switching hats, he's also authored of two collections and three novels, including the recently released Bullettime. And then there are the essays that Nick is famous for, ranging from his discussion of his experiences writing term papers for college students to his book of advice for would-be writers, Starve Better.
He's also known throughout the internet for his strong and well articulate opinions on the full range of controversial and hot-button topics that keep the web hopping. I find that even when I don't agree with Nick's view on something, I can't help but respect his conviction. So, it's only natural that I'd want to find out what his most memorable meal was.

LMS: Welcome, Nick. So, please, don't keep me in suspense any longer. What's your most memorable meal?
NM: Boy, I've had a lot of memorable meals. I refuse to pick one! Here are some:
On a cold October in Vermont, in the midst of a crazy flying-across-the-country-five-times-a-year fling, my companion of that time and I stopped at Pangaea in North Bennington, which her friends owned. It's a restaurant and a lounge, and that night they had these insane raviolis with yellow pomodoro sauce. I've been hunting for another place that does yellow pomodoro sauce ever since. Everything tastes better in autumnal Vermont anyway, because the air is crisp and clean, and there's a seventy degree differential between one's belly and the air.
Also in New England, the dessert place Finale in Cambridge and Boston was a must-visit. Whenever someone came by, I brought them there. The Boston creme pie was the best (duh) and for a while they had this plate of three small cakes, including a bizarrely delicious pineapple upside-down cake. I don't even eat pineapples otherwise.
Chicago! Ribs! There was this joint around the corner from the Civic Center. A total dive—the owner served St. Louis cut ribs in her special sweet sauce with slices of Wonder Bread from behind a plate of bulletproof glass. The walls were covered in photos of blues musicians. I went there every day while I was visiting, and the lady blew me kisses after I thanked for lunch each day. I bought four bottles of her sauce to take home with me—I was living in New York at the time—and dreamed of the stuff when it was gone. Six years later, I was back in Chicago and tried to find the place, whose name I have forgotten. Not only was it gone, the address was gone. Where the building had stood was a vacant lot.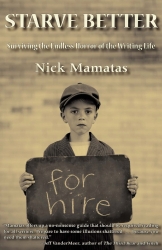 Then there was the time I had this girlfriend who wanted to cook for me, but she had never cooked anything. She called me on her cell phone from the grocery store, with a question that was worrying her: "Why are all these chicken breasts pink?" "Because they're raw, of course," I said. "Oooh," she said. That meal was memorable in other ways too, as you can probably imagine.
Finally, another good meal, or set of them, has to do with my one-time roommate back when I was living in Jersey City. We were lazy fellows, and would often order from Great Wall III, a Chinese dive down the block. Twice or three times a week, and Chris more often than that. Eventually my friend moved out and I moved to an apartment across town. He came to visit one day and as a lark, we called Great Wall III, as I was still in their delivery area. When the delivery man saw my old roomie Chris after months of missing him, he dropped the bags at his feet and gave Chris a hug. It was very strange.

Thanks, Nick. A lot of good stuff, but the thing that will haunt me is having a good Chinese takeout place that would deliver to my home. It's almost enough to make me move to NYC.
Next Monday: Another author and another meal!
Tags: Eating Authors