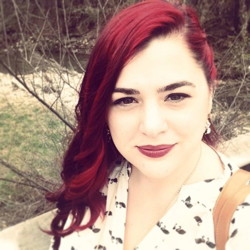 I confess, I still haven't come down from the high of my Cover Reveal last week (and if you missed it, quick, click that link!), but it's time for the spotlight to move and shine on someone else. Specifically, Natania Barron, who is our guest this week here on EATING AUTHORS.
In genre circles, you're likely to have encountered Natania because of her short fiction. Her work has appeared in a range of magazines and anthologies. She's also produced a novel, Pilgrim of the Sky, published by Candlemark & Gleam.
But her fiction isn't the only impact she's made in our community. Natania's also the founder of The Outer Alliance, a blog and podcast supporting LGBTQI speculative fiction and the people who produce it. When she's not doing that, she's kept busy as the creative and web director at GeekMom, a site that is ensuring that the next generation of fans hit the ground running in Ctlhulu onesies and all the other things necessary to successful geek aculturation during those early formative years.

LMS: Welcome, Natania. What's your most memorable meal?
NB: Food is part of what makes us human. Like any other art — and I do believe it to be an art — it inspires us, transports us, and challenges us. Truly great food makes you stop, gives you pause, insists that you stop and experience the flavors, textures, and scents of faraway, unexpected places. Meaningful food experiences steer you to remarkable mindfulness, no matter the quantity, and quite literally can transport you from the mundane to the sublime.
I grew up with a remarkably varied food culture, especially for a kid growing up in Western Massachusetts. My parents, while really not the best cooks (though Mom makes some mean French-Canadian dishes), never treated my sister and I as if we had children's palates. Before we were teenagers, we'd dined on everything from pâté to caviar, souvlaki to poutine, and mushroom beignets to naan. Dining was always a family experience, and always the highlight of our travel (my parents were real estate agents in the 80s, and we bopped along with them almost everywhere).
But when it comes to that one meal, that one experience, there is nothing to compare to the food we ate at Kim's Dragon Restaurant. If you lived in the Berkshires in the 80s and 90s, you'd be familiar… and as broken hearted as I am, since it is no longer in business. I was about seven when we first started going, and I was 22 on my last visit.
Kim, the owner, has since passed away. His story is nothing short of amazing, since he escaped Vietnam after the war in a wooden boat and, with the help of Arlo Guthrie, opened his restaurant in Pittsfield, MA. He was able to bring his family over from Vietnam with the proceeds. His son Hung even won Top Chef in 2008. But I remember Kim as a warm, smiling, gracious host, who always came to visit us at our table over and over again, ensuring we were enjoying ourselves (his wife and sons did most of the cooking). He updated us about his family, and beamed with pride they were part of the family business. We always felt like family when we were there — though to my knowledge, we never met the cook (Kim's wife) once.
It was at the Kim's Dragon Restaurant that I had my first encounter with Vietnamese food. From the moment we walked into the dark, red-carpeted doorway it was clear we were somewhere else. The smell, musky and spicy, sweet and slightly fishy was all encompassing — the air practically tasted of nÆ°á»›c mắm pha, the classic dipping sauce made of fish sauce, vinegar, and shredded carrots.
Three things comprised the best meal I'd ever had there. First, the chả giò–otherwise known as spring rolls. But really, the term "spring rolls" don't do them justice. Spring rolls, to me, are the greasy little chewy things you get in bad Chinese take out. No, it's safe to say that the chả giò at Kim's Dragon Restaurant have haunted me for decades. I've searched all over the East Coast for chả giò that stands up to Kim's. They were big, for starters, about five inches long. They were relatively thin, but fried to such a perfect golden brown crispiness that bits of the rice paper would flake off. You ate those, too, even though they were piping hot. Dipped in the cold nÆ°á»›c mắm pha, it was a marvel of temperature contrast, texture contrast, and… oh god, the taste. Cilantro, seasoned pork, cellophane noodles, crammed into the crunchy exterior…
Excuse me, I need a moment.
Okay. Then came curry. My introduction to curry came not from India, but here at Kim's Dragon Restaurant. Chicken curry might sound mundane, but at Kim's it was an epiphany: spicy, sweet, sultry, savory, the vegetables crisp and tender, the chicken moist and full of flavor. Luxuriously dribbled over basmati rice, the silken curry became nothing short of a religious experience. Dad loved it so much that he'd take home the leftover sauce, picked clean of veggies and meat, to have later. Every other curry I've had, regardless of its origin, has paled in comparison to the bright, bright yellow of the curry at Kim's.
There were dessert options, and we tried many of them. Including bananas encrusted with peanuts and various sweet concoctions. But lest you think I need complication to make my food memorable (remember, I'm half French-Canadian, and I do adore simplicity in my cuisine, too) I will tell you of the lychee. Kim would come out after we were stuffed and present a martini-shaped cup with three or four lychee berries in a light syrup. The first time I had them, I was both doubtful and disappointed. Until I ate one. The sweet, floral flesh was like nothing I'd ever had before. Cold and tender, every bite fit to bursting with juices… That one flavor, that one fruit, was the perfect note on which to end such a meal.
And we did, many times.
Now, I like lychee in an adult beverage — perfect with some gin, ginger ale, and St. Germain's, I might add.
Both Kim's Dragon Restaurant and Kim himself are gone. At some point in the early 2000s, an oil truck and a truck barreled into it off of Route 20; while there were attempts to open it over the years, the true heart of Kim's is gone. Kim's sons have opened a few restaurants, more in the Pan-Asian mode, but the place I knew is gone.
I moved away from the Berkshires when I was twelve, and I was able to go back to Kim's just once before it closed its doors forever. But I am forever changed by that food, that experience. I am still chasing the taste, the smell, the feeling of authenticity from Kim's Dragon Restaurant.
And it's okay if I never find it. In that moment, that perfectly artful moment, I had all the joy I could ever want over a single meal, in a single place, in a single time.

Thanks, Natania. I'm feeling haunted by the memory of restaurants past now. That, and the image of Arlo Guthrie smuggling chefs into the US.
Next Monday: Another author and another meal!
Tags: Eating Authors