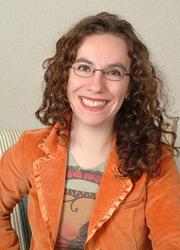 I'm preparing this week's post from New Mexico, where I am ensconced at a writers' retreat and working hard to up my craft (while also enjoying great company, fabulous meals, and some truly awesome leisurely walks through nature). But such things cannot stop the juggernaut that is the EATING AUTHORS blog! Which is about as much of a segue as you're going to get this week by way of an introduction for my latest guest, Naomi Novik, who should already be known to you for her Temeraire series which blends fantasy and alternate history (or, as it's more commonly described, the Napoleonic Wars with dragons!).
She's a past Hugo nominee, and has won the Campbell Award as well as the Compton Crook Award. And just last month, Naomi took home the Nebula Award for Uprooted. So, if by some fluke you've not already read her work, seriously, what can you possibly be waiting for?

LMS: Welcome, Naomi. What stands out for you as your most memorable meal?
NN: The single most memorable meal — that's hard. I've been talking for more than ten years now about the single peach that I ate in August in Tokyo—my friends and I bought several of them in their neat individual brown bags at a corner grocery and we took them back to our tiny hotel room and gobbled them sitting on the beds, licking juice from the sides of our hands and making helpless noises over their perfection: a platonic ideal of peachdom. Later in that same trip, another friend took us to a truly beautiful shojin ryori meal in a Buddhist temple in Kyoto: a revelation of tofu, which had never before manifested its delights to me. It's a meal that I have promised myself to eat again someday.
Then there are the grand outrageous spectacles of the NYC dining scene, dinner and a show and a circus thrown in—I'll single out Eleven Madison Park, where they brought us tiny savory black-and-white cookies and an egg filled gloriously with tiny bites of sturgeon hidden beneath creamy custard, and then ground up a carrot at our tableside into "tartare" with an artists' palette of twenty seasonings to mix in. And minibar in Washington D.C., where I can't say that I liked every one of the literally twenty-eight courses, but they were all extraordinary. It wasn't a meal so much as an ongoing balletic experiment. I don't think I will ever forget the uni ice cream, which tasted all the better for sounding impossible.
But ultimately, I have to come back to home. My grandmother, who among many other adventures in a long and involved life once cooked for a contessa in Italy, would sometimes make a pie she called quiche, which was nothing at all like quiche, closer to a stuffed pizza, with a crust made of flour and ricotta. She would mix the filling with her hands, beaten egg and cubes of mozzarella and jars of artichoke hearts chopped small (as long as I won the argument with my sister, who wrongly preferred the version with ham instead), and bake it in a springform pan until the crust turned golden brown. I always burned my tongue with impatience on the melted oozing cheese and the hot crust, and I never minded.

Thanks, Naomi. I am so wishing I had your grandmother (though I side with your sister on the whole artichoke hearts vs. ham debate).
Next Monday: Another author and another meal!
Tags: Eating Authors