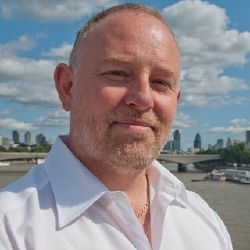 It's Monday and I'm hoping to sleep in a bit, as I've only just returned from the first of two three-day trainings in Conversational Hypnosis. Is it any wonder that I'm sleepy? Fortunately though, my guest for this week's installment of EATING AUTHORS lives in the UK, and I'm sure the time difference makes it all work out. Or at least I'm going to tell myself it's so. Shhh.
Mike Shevdon and I started out the same, reading the works of Edgar Rice Burroughs, C. S. Lewis, Robert Heinlein. And then any similarity appears to have ended. His official bio speaks of martials arts such as aikido and archery, and his culinary expertise include something called "squeaky cheese curry" which I can't help but suppose has no resemblance to the squeaky cheese I used to get in Wisconsin. Since 2009, he's been serving up novel-length fantasy for the fine folks at Angry Robot, juxtaposing tropes of faerie with the modern world. It's a balancing act that makes for great reading, so after you've had a look at his response to the weekly question, pick up a copy of his first book and prepare to be delighted.

LMS: Welcome, Mike. I can only assume that modesty will keep you from nominating your own squeaky cheese curry, so can you please share with my readers your most memorable meal?
MS: Food has always been important to me, both as a consumer and a creator, and choosing a single memorable meal is almost impossible. There are so many things I would include – from fresh-caught anchovies eaten on the harbour in the village of Thermi on the island of Lesvos, to oysters in raspberry vinegar in a cafe in the outskirts of Paris, from duck with pancakes in the Mandarin Restaurant at the top of the Westin Plaza Hotel in Singapore, to osso bucco with risotto milanese in a small trattoria in Milan.
Rather than a single memorable meal, I would like to choose a memorable place where I had many wonderful meals. In the 1980s I was working for Blackwells the Booksellers in Oxford, based out of Hythe Bridge Street, near the railway station. I was in the IT Department, which meant I wasn't in the main building, but in the annexe across the road. One of my colleagues was a contract programmer called Pete Taylor, and it was Pete that introduced me to Munchy Munchy, an Indonesian Cafe which was on Park End Street, one block over. Indeed, our offices backed onto their kitchens, so by lunchtime the most wonderful smells of spices were being wafted by the fans from the kitchens into the open windows at the back of our offices on the upper floor.
Munch Munchy was run by a husband and wife team, Tony and Ethel Ow, and had a simple philosophy. It was a cafe, not a restaurant, so you couldn't book a table. The menu was devised from whatever was fresh at the market, so it varied day-to-day and was written in chalk on a large blackboard – a sight that's familiar now in gastro-pubs and bistros, but in the 1980s was unheard of in England. The tables were pine with straight plain benches on each side. There was a pot of fiery chilli sauce on the table as a condiment. Cutlery came with the food.
The regular dish was satay – beef, chicken or prawns on bamboo skewers, marinaded in spices and cooked over charcoal, then served with plain rice, a salad of pineapple, tomato and cucumber chunks, and peanut sauce.
Oh, the peanut sauce – it was exquisite. I have never tasted the like, and believe me I've tried it anywhere I could. When the cafe finally closed and Tony and Ethel retired to Seattle to be near their family we begged Ethel for the recipe. We tried bribery, we pleaded, we cajoled. It was no good, she wouldn't tell us how it was made. It was the colour of burnt toffee with rough ground roasted peanuts floating in the mix – viscous, but translucent rather than cloudy. It was slightly sweet, and had a tang and warmth of spices that we tried in vain to identify. My guess is that palm sugar was involved, and possibly ketsap manis, but beyond that I simply don't know. I have tried every recipe I can find, trying to replicate it, but have never succeeded.
Other dishes were dependent on what was good. It was my first introduction to beef rendang, a thick slow-cooked curry of beef in coconut milk, which is one of my all-time favourites, and the tamarind roast duck was fabulous – rich and warm, with a crust that clung to the duck as it flaked apart on the fork. Vegetables were usually choi sum, or similar, cooked quickly to keep their freshness and bite, and served on a plate to share. Desserts were simple – there was fruit, usually mango, and sorbet or ice cream. Strangely, although you got two scoops of ice cream you weren't allowed to mix flavours – I never found out why.
By evening the cafe would be packed, and a long queue would form down Park End Street of people waiting for tables – even though there were other good restaurants within a short walk. It was unique, special, and peerless. On my trainee programmer's salary I could only afford to eat there on Fridays, though the prices were very reasonable, and it became a pilgrimage for Pete and I on a Friday lunchtime.
By eleven o'clock the aroma of rich spices would start drifting through the windows and we could smell the roasting peanuts for the satay sauce. Hints of what might be on the menu would lace the air and we would be salivating long before it was time to walk round and find a table.

Thanks, Mike. I already feel haunted by your description, and I've never tasted the food.
Next Monday: Another author and another meal!
Tags: Eating Authors