This week's EATING AUTHORS guest is the kind of person I like to describe as a three-sided coin. Mike Allen may be known to you as one of the top speculative poets in the business, which probably goes a long way to explaining his three Rhysling Awards. Then there's his skills as an editor, having created the poetry journal Mythic Delirium as well as the Clockwork Phoenix: Tales of Beauty and Strangeness anthology series. Somewhere in there he's also found the time to write some prose. He's been previously nominated for a Nebula Award for Best Short Story (and his recent collection, Unseaming, a Shirley Jackson Award finalist, makes that point very clear) and he's no stranger to longer lengths, (e.g., his novel The Black Fire Concerto).
Like most three-side coins, odd things happen when you flip him. But don't take my word for it, after you've read his account below why don't you go and check out some of his work and see for yourself?

LMS: Welcome, Mike. The time has come for you to share the highlights of your most memorable meal!
MA: My most memorable meal was a complete surprise, in a great way.
'Twas in the year 1992. Anita and I were soon to be married, and I had just graduated from Virginia Tech. She and I had dined frequently at a Chinese restaurant in our hometown of Roanoke called Heaven. Anita had developed a rapport with the chef. He called her "Bird Lady" because she would leave little origami swans for him, which he'd display by the cash register.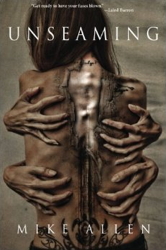 We'd found every dish there delicious, and always we were tempted by the most expensive item on the menu, Peking Duck. But you couldn't just order it off the menu. The chef wanted a day's advance notice.
To celebrate my graduation, we resolved to order the Peking Duck. We did not really understand what this meant.
When we arrived, half of the restaurant had been closed off, specifically for us. When we ordered a pu pu platter the chef expressed surprise, because, he said, so much food would be coming. Still not understanding, we ordered the platter anyway. And it was delicious. But when he left us, he was chuckling.
We found out why when he and three assistants returned with a perfect cooked-to-mahogany duck, a whole duck, on a porcelain platter. It was gorgeous. We assumed it was going to be placed on the table for us to carve, but he took it away, again chuckling.
First came vegetables, rice and scrumptious slices of duck. The chef explained exactly how it was prepared and Anita remembers all of what he told her — hours of basting were involved, she says. I only recall that it was delicious.
Our plates were cleared, and the second course arrived, a shredded duck dish made with the meat from the legs and thighs, in a rich sauce, served with crepe-like pancakes meant to be used like tortillas. It was also astonishingly delicious.
Our plates were cleared again, we assumed we were done — and then the third course arrived, a soup tureen filled with the cooked-down bones and unused meat as well as vegetables and seasonings.
And despite that big appetizer I so ignorantly indulged in, I ate every bit of that duck that was put in front of me. Anita thinks we had leftovers, but I dispute this. I'm certain we consumed that entire duck, with verve.

Thanks, Mike. I have a couple culinary quests in my life. One involves eggs benedict, but another is my search for the perfect duck dinner. Sounds like I need to visit Roanoke!
Next Monday: Another author and another meal!
Tags: Eating Authors